I want to believe this is the team.
I don't want to put the hat back on the hat rack.
I want to keep cheering.
And there is room for optimism. Because the signs are there.
Last night's walkoff homerun by Justin Turner, giving the Dodgers a 4-1 win over the Chicago Cubs and a 2 games to none lead in the National League Championship Series, puts the Dodgers in a pretty good spot.
But they cannot rest on their laurels.
They cannot slow down.
Game 3 tomorrow night in Chicago. Yu Darvish goes for the Dodgers.
My heart might be settled in for that one, but this one will take some time.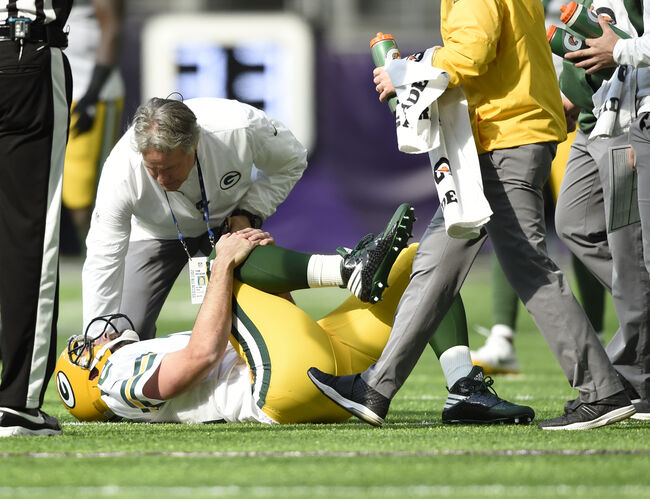 Of all the headlines this morning around the NFL, there are none bigger than the likely-season ending injury to Green Bay Packers quarterback Aaron Rodgers.
Not only because of what it means for the Packers and their longterm success this season, but how it potentially opens the door wide open for teams in the NFC.
Consider now the Philadelphia Eagles, the Los Angeles Rams and yes, maybe even still the Dallas Cowboys very much in play for the conference title.
Not to mention Atlanta and Carolina, both in spite of Week 6 losses, can still look to the future if they can manage to turn things around in a hurry.
I don't want this to sound like we're already burying the Packers, because they've still got plenty of talent on that roster. But an important game looms in just six days when they host the resurgent New Orleans Saints, who have now won three straight while outscoring their opponents 106-51 in that timeframe. I'd like to say this comes as a surprise to me.
But that would be dishonest.
According to a report on ESPN, Colin Kaepernick has filed a grievance under the latest collective bargaining agreement against NFL owners for collusion, according to his attorney, Mark Geragos.
Kaepernick has chosen to go through this process with Geragos, as opposed to dealing with the NFL Players Association. Geragos has represented several high-profile clients, including Michael Jackson, former NASCAR driver Jeremy Mayfield and musician Chris Brown.
In a statement on the grievance, Geragos writes, "If the NFL (as well as all professional sports teams) is to remain a meritocracy, then principled and peaceful protest -- which the owners themselves made great theater imitating weeks ago -- should not be punished and athletes should not be denied employment based on partisan political provocation by the Executive Branch of our government. Such a precedent threatens all patriotic Americans and harkens back to our darkest days as a nation. Protecting all athletes from such collusive conduct is what compelled Mr. Kaepernick to file his grievance.
"Colin Kaepernick's goal has always been, and remains, to simply be treated fairly by the league he performed at the highest level for and to return to the football playing field," the statement continued.
Eventually, this was always going to come down to franchise owners, representative of one massive conglomerate, being attacked in the court of law for exercising their rights to do business as they see fit.
It also will force the player's association to -- once again -- be cornered into working on behalf of a former player, who acted on his volition and against the explicit "suggested" rules of the league in regards to last season's protests on the national anthem.
And what is Kaepernick's endgame here? Does winning this grievance give Kaepernick a free pass back into the league? Does he think that winning an arbitration case will make owners any more likely to want to bring him onto a practice field, much less in front of a crowd of rabid football fans who want nothing to do with any of this nonsense?
Bad look, Colin. And again, I want to be surprised.
But I'm not. Penn State has climbed to No. 2 in the Associated Press poll behind unanimous No. 1 Alabama after a wild weekend of upsets gave the Top 25 a major makeover.
A season-high seven ranked teams, including four in the top 10, lost to unranked teams on Friday and Saturday. Defending national champion Clemson and defending Pac-12 champion Washington were the highest-ranked teams to lose.
Penn State, which was idle, took advantage. The Nittany Lions moved up a spot to No. 2, 15 points ahead of No. 3 Georgia. Penn State has its best ranking since Oct. 31, 1999, when the Nittany Lions were No. 2.
Alabama, which has been No. 1 since the preseason, received all 61 first-place votes for the first time this year.
We'll break down all the college football headlines from this past weekend when Castle Country Radio's Jordan Buscarini joins us this morning at 11am ET. The defending NBA champion Golden State Warriors will be in action tomorrow, as will the defending Eastern Conference champion Cleveland Cavaliers, when the season opens tomorrow in a nationally televised doubleheader.
The Warriors will open at home against the Houston Rockets in the late half of a TNT doubleheader. Prior to the start of that game, it's a rematch of the Eastern Conference finals as the Cavs host the Boston Celtics.
Of course, there are a million storylines just in that game alone.
We'll preview both those games and talk much more about the opening days of the season when we chat with James Holas at B Ball Breakdown today at 10am ET.