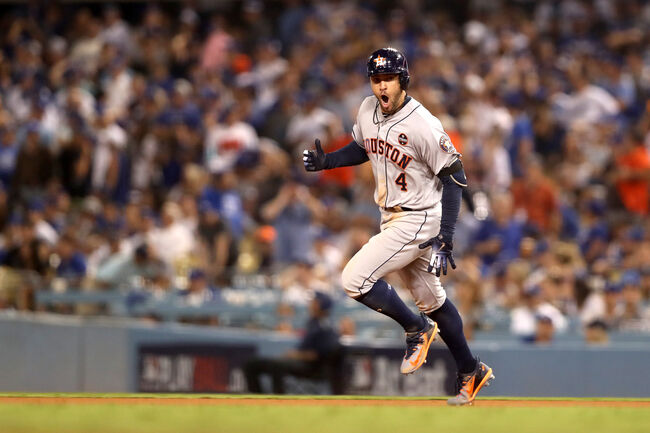 Baseball fan or not, it's hard to encapsulate into mere words typed on a computer screen the emotional roller-coaster that was Game 2 of the World Series.
Look, I'm a Dodger fan, so I'm going to view this from the negative side of things. Manager Dave Roberts suffered the consequences of two poor decisions on the night.
The first came in the 5th inning, when Roberts opted to go to the bullpen in relief of starting pitcher Rich Hill.
After a shaky start to the game, Hill rebounded nicely and probably could have gone another inning. Hill, who was visibly upset in the Dodger dugout after learning he was being relieved, seemed to have gained back some control of the game after the early he gave up which gave the Astros their first lead of the series.
The second decision was an easy one to make at the time, but clearly came back to haunt Roberts. Leading 3-1 going into the 7th inning, Ross Stripling faced one batter, walking Marwin Gonzalez on four straight pitches. Roberts pulled Stripling, which brought Brandon Morrow into the game.
Morrow pitched his way out of the jam, but that sequence forced Roberts to move his chess pieces a little before he wanted to. In the top of the 8th inning, Alex Bregman opened up with a ground rule double that escaped the outstretched glove of Yasiel Puig and that forced Roberts to bring in Kenley Jansen for what would have been a monumental task of a 6-out save.
You (hopefully) know the rest.
The key going forward is that neither team has a real tactical advantage at this moment. Games 3 through 5 will be in Houston which should bode well for the Astros, but without their two main flamethrowers on the hill in the next pair of games, the Dodgers should be able to boast some pop from their bats and steal one of these games, thus reclaiming home field advantage once the series shifts back to Los Angeles.
The reality is, it's a best 3-of-5 now, and the Astros have the advantage in that regard.
Buckle up, kids. This is going to be a bumpy ride. Now this? All of this? The entire ceremony?
Yeah, I cried. I cried like a small child.
After the game and the loss, I returned to my cynical, snarky, sarcastic ways and blamed it all on Vin.
Of course, I know how preposterous that is. Of course it wasn't Vin's fault.
Those of us who ever listened to Scully call Dodgers games on the radio dial knew it was always his colleague Ross Porter's fault.
The best part of this entire ceremony wasn't the introduction of Steve Yeager, it wasn't the introduction nor the pitch from Fernando Valenzuela.
It was the moment Scully began to address the crowd. 56,000 screaming, chanting and cheering fans going immediately silent, much like an attentive but frenetic child listening to his grandfather tell a bedtime story.
No one spoke when Vin did.
I just watched the embedded video below. And I have no idea why my eyes are watering up again.
"It's time for Dodger baseball." Newton forgoes open mic night at Panthers podium


Carolina Panthers quarterback Cam Newton decided once again to let his words, or in this case, lack thereof, be among the dominant storylines in the NFL.
Newton walked out of his regularly scheduled press conference yesterday after apparently being annoyed, perturbed, bothered, disturbed or distracted in some way after a question regarding his team's ability to pick up added yardage.
I'm sure there's a logical explanation for all of this. Much like there was a logical explanation for his actions a couple weeks ago regarding his behavior at the podium when addressing a question from a female reporter on the local newspaper. Much like there was a logical explanation (though we never got one) regarding why Newton failed to engage with the media at all last week. I've been patient with Newton and have stood by his corner through other of his so-called media shenanigans, the most memorable being the postgame Q&A session following the loss to the Denver Broncos in Super Bowl 50. I've cut him a lot of slack and tried to give the young man the benefit of the doubt when many others have called into question his behavior as well as his emotional stability.
But now we need answers. If he doesn't want to talk to the media, say something to that effect. If he's just a petulant child, say that as well.
But say something already, because the act is wearing thin. No one puts Bryant in a corner


Well, maybe Pittsburgh Steelers head coach Mike Tomlin does.
According to ESPN, the Steelers have benched Martavis Bryant for Sunday's game against the Detroit Lions over his use of social media.
Bryant told reporters that he was relegated to scout-team work during Wednesday's practice. Scout-team players typically don't play in that week's game.
Bryant is no longer hiding from his frustration with the Steelers' offense, telling reporters after that session that he's frustrated but will continue to play hard.
Bryant refueled trade speculation late Sunday night with an Instagram comment in response to a fan saying rookie JuJu Smith-Schuster is better than him. Bryant said Smith-Schuster is "nowhere near better than me, fool. All they need to do is give me what I want and y'all can have JuJu and whoever else."
Tomlin said Tuesday that he would "rain down" an appropriate punishment on Bryant for his comment, while making clear his receiver is not available via trade. The deadline is Oct. 31.
Bryant referred to his agent, Thomas Santanello, when pressed on details of his frustration.
"If I'm not traded I'm going to work my butt off here, and whatever happens happens," Bryant said. "You're not going to hear me complaining no more. I'm just going to be quiet and let everything fall into place."
Coming up this morning on FIRST SPORTS, we'll recap a wild night in baseball, talk some NFL and NBA news and much more, including a preview of Broncos vs. Chiefs with Ryan Edwards of Orange and Blue AM760 in Denver. We'll talk college football with Chuck Hayes and we'll skate around the NHL with SB Nation hockey editor Travis Hughes.