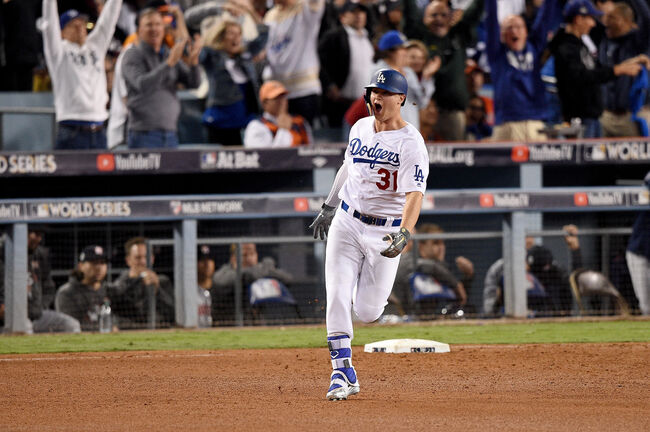 Baseball has a way of creating the most unimaginable of moments.
Joc Pederson was a wunderkind of sorts for the Dodgers not that long ago.
Then he fell on some hard times. He was swinging at everything, not necessarily making contact with anything, and he was dropping off the radar faster than you could imagine.
Thus, when his name appeared on the Dodgers roster for the World Series, there was a moment of hesitation in my mind, and I'm certain in the minds of others, who wondered if he wasn't going to be the weak link going up against the Astros.
Last night, with the Dodgers leading 2-1 and needing a bit of insurance with Kenley Jansen about to embark on a 6-out save opportunity, Pederson may very easily have stamped himself as the Series Most Valuable Player.
Pederson's solo homerun gave Jansen and the Dodgers a cushion that was quite comfy indeed. The Dodgers scored a needed Game 6 win by a final of 3-1 and will fight for the MLB crown tonight in front of what will likely be a wild crowd at Chavez Ravine.
Who will be the hero tonight? What one decision will lead to another that trickles down to the ninth inning? Will Yu Darvish get back the stuff that abandoned him last week in Houston?
One game to win it all.
What started on April 2, 2017 -- 213 days ago to be exact -- comes to an end tonight. Ajayi, Garrapolo & Benjamin big names moved on deadline

Yesterday was a busy day on the trade deadline. Quarterback Jimmy Garrapolo goes from New England to San Francisco while running back Jay Ajayi moves to Philadelphia from Miami and the Buffalo Bills acquire wide receiver Kelvin Benjamin from Carolina in exchange for a pair of draft picks.
Naturally, and because we all enjoy the speculation and rhetorical nonsense of what one thing means over another, the trade deadline couldn't possibly pass without some mention of what trading Jimmy Garrapolo does for the backup quarterback spot in New England.
After all, Tom Brady's not getting any younger, and he's gonna need someone reliable to run that offense if the worst case scenario comes about and the TB12 method fails to resurrect the all-too certain Hall of Famer.
So, naturally the name Colin Kaepernick comes about.
Now, allow me for a moment to giggle about the very notion that the Patriots would even entertain this notion, as preposterous as it sounds.
But if POTUS is reading this blog, and who knows, maybe in between tweeting about this or that or waiting for another federal investigation to uncover something more or less trivial or perhaps inconsequential, I'd advise you to at the very least leave a voicemail for your buddy Robert Kraft and ask him what the hell he's doing.
Because if this indeed does come to pass, and for the record I don't believe it will, then POTUS is about to have another supposed private meltdown. Some things we missed


We were gone for a couple days this week (Hope you at least noticed), so there a couple items I wanted to at least get out of the way.
* I don't know if Jim McElwain was lying about death threats he was receiving while head coach of the Florida Gators. I can't imagine why anyone would lie about such a thing, but there was clearly a disconnect there with himself and the administration, so that change had to happen.
I can't think of a more tumultuous situation involving one coach exiting a team in the college ranks since Bobby Petrino and his multiple moments of creative walkouts.
* Ezekiel Elliott's suspension is.... on again?
Or is it off again?
Oh wait, it's back on?
No... Wait, it's off.

For crying out loud, would someone please just let Judge Joe Brown handle this already so we can all get on with our lives?
As frustrating as this must be for Elliott, the Dallas Cowboys and the people covering this story, it's equally maddening to the rest of us who can barely comprehend the legalities of paying a simple parking ticket, let alone the number of appeals and processes this thing has already undergone.
* Two of my all-time favorite movies, and trust me, that's a short list of films, are ones in which actor Kevin Spacey has appeared.
Am I morally obligated to remove those films from my home, in apparently another kneejerk reaction to someone else's business having to affect my life?
Because I'll be real honest here. I like The Usual Suspects. It's a great film. I was hoping to keep that in my DVD collection for a really long time. And Se7en is a creepy film, but it was a well-done kind of creepy. I can always respect that.
I'll allow you to think of Spacey as a morally repugnant human being, if you'll allow me to keep my DVD collection intact without judgment.
Thank you! A parting moment

I lived 18 years in and around Los Angeles. I'm celebrating a chance at seeing that city win a World Series tomorrow night.
I was born in New York. I'm so genuinely saddened they've experienced - again - the horrors of another act of terrorism.
We are stronger than our divisions.
We are better than hate.
Be safe and stay strong, NYC. I love you.
Let's get that trophy tonight, boys!!


It's Time for Dodger Baseball!