Quarterback Matt Stafford and the Detroit Lions ran off with an early lead and beat the Green Bay Packers 30-17 at Lambeau Field to get some control back in their pursuit of NFC North division rival Minnesota.
The Lions, led by Stafford's two TD strikes and more than 360 yards passing, didn't need a lot of help from their running game, but the Packers inability to do much of anything on the night aided the Lions cause, as they ran their record to 4 and 4 on the season.
Ironically, that's the same mark as the Packers, who have now lost three straight games. Both teams trail the Vikings (6-2) by two full games in the division, with the Lions at least trending a bit upward while the Packers appear to be sputtering badly since the shoulder injury to Aaron Rodgers sidelined him a couple weeks back. Cora introduced as new Red Sox skipper

The Boston Red Sox formally introduced new manager Alex Cora to the media yesterday.
The 42-year-old Cora most recently served as bench coach for the World Series champion Houston Astros, and had spent quite a few years in the show as a player for both the Red Sox and Cleveland Indians.
Meantime, there is still much speculation as to who will be the new manager for the New York Yankees.
General Manager Brian Cashman indicated earlier this week there was a growing rift in the clubhouse between Yankees players and Joe Girardi, who was told he would not be coming back just days after the Yankees lost the American League Championship Series 4 games to 3 to the Astros.
Cashman told reporters this week, when asked about what kind of person he sees as the new manager for the Yankees, that he'd like someone "who's willing to push back and have open discourse" with his players.
Great! That sounds about right. They want to turn the Yankees clubhouse into a new season of Jersey Shore, just on the other side of the Holland Tunnel.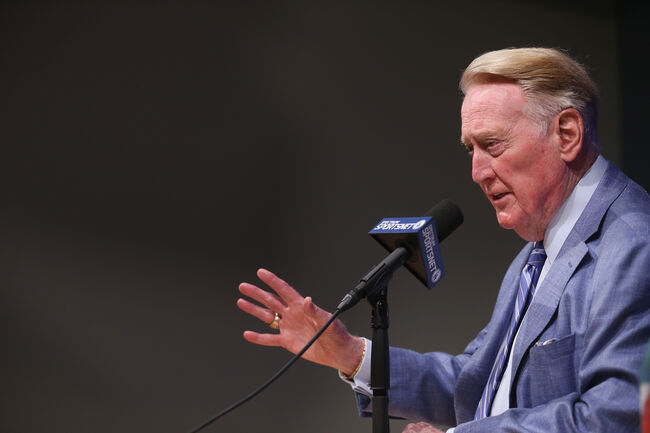 And so it goes ...

Our heroes, mentors and those we choose to look up to are in fact, actual people.
They have lives, they have families, they have choices to make every single day, just like you and I.
So when I read the comments by former Los Angeles Dodger play-by-play announcer Vin Scully in regards to the so-called "anthem protests", I wasn't floored by them. I wasn't angered or miffed by what he said.
I had virtually no reaction to the words he chose whatsoever.
Because Scully is a grown man. He has a life, a family, he makes choices every single day.
And I don't take my cues on social or political ideologies from my so-called heroes and mentors. I respect their ability to present a logical and intelligent response and I would expect nothing less in return.
Scully is -- and always will be -- one of my most revered idols in the world of sports broadcasting. I miss his voice every time I watch a baseball game or listen to one on the radio.
In that area, he has no equal.
But if I were to suddenly turn away from my idolization of the man simply because he feels differently about a topic than I do, then it can safely be argued that I'm the hypocrite, not him.
Scully spoke to media and those gathered at an event this week entitled "An Evening with Vin Scully". When asked about the protests which have garnered so much publicity throughout much of this current NFL season, Scully said, "I have only one personal thought, really. And I am so disappointed. And I used to love, during the fall and winter, to watch the NFL on Sunday. And it's not that I'm some great patriot. I was in the Navy for a year — didn't go anywhere, didn't do anything.
But I have overwhelming respect and admiration for anyone who puts on a uniform and goes to war. So the only thing I can do in my little way is not to preach. I will never watch another NFL game."
My appreciation, respect and admiration for anyone who puts on a uniform is also quite strong, but I also believe in the ability for us to respectfully disagree on what I'll allow myself to be entertained by any given day.
Doesn't change my opinion of Scully. Not a little bit. Doesn't disappoint me, anger me, or lessen my appreciation for the man and his remarkable career.
Because I don't see my idols as a caricature of myself. I don't need to have them behave in a manner which completely reflects my own.
My idols remain because it is their humanity and individuality which keeps them unique.
I hope that clears things up for people who texted me last night, suggesting I was somehow "less than worthy" of looking up to Scully because we disagree on this issue.
Further, the way the story was covered in the bowels of social media and the Internet made it seem as if Scully was perturbed or angered at the protests. Some also painted the man as a deranged senior citizen.
One headline read: "Legendary Sports Announcer Lays Down the Law on NFL Protests"
Another headline read: "Old Retired White Man Has Opinion You'd Expect On National Anthem Demonstrations"
Neither of these headlines are accurate. In fact, it can easily be ascertained that these headlines were not written with any intent of providing accuracy or any sense of journalistic integrity, but were meant to enrage the debate, stoke the flames or further widen the gap between those with differing opinions.
Scully didn't lay down the law. He expressed his beliefs.
Scully's opinion is his own. Whether a headline writer wants to characterize him in an unflattering fashion says more about the man sitting in an office writing the headline than it does about the man who spent 67 years artfully doing his job.
Neither Scully, nor myself are robots. We're not characters that you create in a universe all by yourself.
People. Both simple and complex.