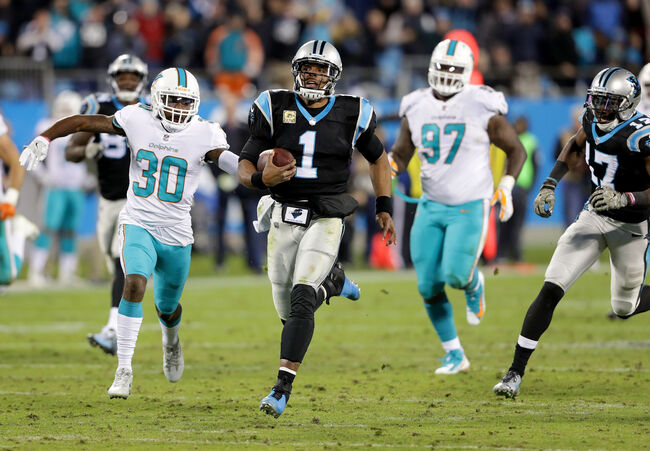 Week 10 of the NFL season is in the books, and the Carolina Panthers appear to be ready for another strong finish. Cam Newton tossed four touchdown passes and led an offense which racked up nearly 550 yards in a 45-21 beatdown of the Miami Dolphins on Monday Night Football. Newton completed 21 of 35 passes for more than 250 yards and also ran for 95 yards, improving the Panthers record to 7 and 3, just a half-game back of the New Orleans Saints in the NFC South. Meantime, the Dolphins defense had little resolve last night, getting outscored 35 to 14 in the middle quarters and falling to 4 and 5 on the season in the AFC East.
I said it yesterday on the show and I'll repeat it here. So much is made out of the idea in the NBA, and to a lesser extent in other sports leagues, of one conference dominating another during the regular season. I can make a case for that same thing existing in the NFL.
In my mind, the balance of power in the NFL belongs to the NFC. With Philadelphia, New Orleans, the Los Angeles Rams and Minnesota all riding extended win streaks and heading into the homestretch in good order, there is a strong bit of evidence that the NFC has the better teams and the advantage heading into the month of December.
No one is dismissing the Patriots, Chiefs and Steelers as being the so-called "teams to beat" heading into Week 11, but I can make cases for all three of those teams having significant flaws and being suspect of cratering when it comes time to step up. The Updated Bortstein Rankings
So, with that said about which conference appears to be doing better than another, and since the last time I did one of these silly lists, I was chastised for it because I'd dared to say that the Steelers were a solid team back in Week 2, we're gonna try this again.
Let the anger and trolling begin.
The Top Ten Teams, heading into Week 11
1. PHILADELPHIA
2. LOS ANGELES RAMS
3. NEW ORLEANS
4. NEW ENGLAND
5. PITTSBURGH
6. KANSAS CITY
7. MINNESOTA
8. CAROLINA
9. ATLANTA
10. JACKSONVILLE LeBron James finally speaks...
LeBron James may or may not be the same dominating player he once was, but that doesn't mean he's giving up that spot atop the throne without a fight.
Last night's shenanigans - both on the court and in the postgame comments -- between the Cleveland Cavaliers and New York Knicks is just fine by me. I want rivalries to be treated like such, and if a little good-natured jab session between James and Knick star Enes Kanter will provide fans with a little bit of drama, then so be it.
And I'll be honest, I want James to talk more. For too long, James has been the guy who exudes quiet confidence and a stern sense of knowing his place.
Call it maturity, or perhaps a sense of "No ____ Were Given" attitude, James would do well to adopt a little Kobe Bryant mentality, if for nothing else but to add a little drama into the early season NBA.
Here's video of James after the Cavs 104-101 win last night over the Knicks in Madison Square Garden.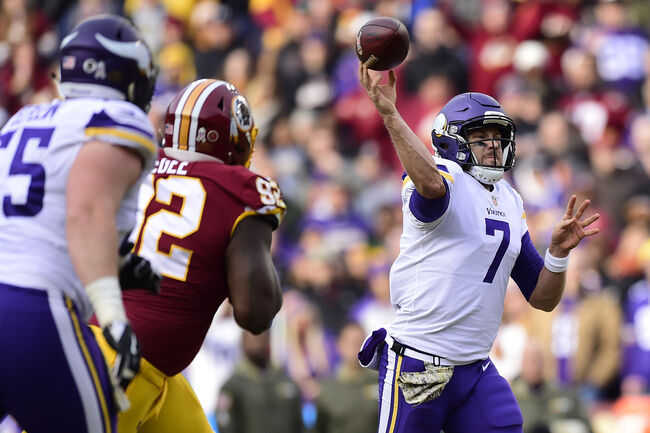 The Minnesota Vikings have a dilemma on their hands, and it can easily be dissolved or it can blow up in their face.
The Vikings are riding the hot hand of quarterback Case Keenum to a first place spot atop the NFC North, with a 7-2 record, a five-game win streak and a 2-game lead over both Detroit and Green Bay in the division.
In those five games, Keenum's stat line is pretty decent. A 67% completion rate, with more than 1150 yards passing and 8 TD passes.
Is he Tom Brady? No. Does he have to be? I, and most Vikings fans, I imagine, should certainly hope not.
But the images of Teddy Bridgewater sitting on the bench, wiping away tears as he found himself back in uniform after his horrific injury last year in the final days before the start of the season, have left many wondering if Keenum's spot on the depth chart was on shaky ground.
Head coach Mike Zimmer did neither quarterback any favors earlier in the week, deflecting the inevitable line of questioning to supposedly making an answer until possibly Wednesday.
Maybe I'm a sucker for the underdog, and maybe I have seen it way too often where having two quarterbacks means you actually have none... But I see no reason right now to make a switch at the position while Keenum (and the team as a whole) is playing as well as he (and they) are doing right now. Bridgewater hasn't thrown a meaningful pass in a game since January 10, 2016.
That's 674 days for those of you counting at home.
You're the head coach of a first-place team, the playoffs are sitting there waiting for you.
You make the call.
We're talking NBA with Jamieson Welsh from Believe the Hype NBA.com and we'll talk New Orleans Saints football with John Hendrix from SB Nation.com this morning on the show.
We've got a lot to get into, so make sure you join us and participate on the FOX phone lines (866) 345-8255 or on the My Naked Mobile.com text line at (505) 330-2327.
FIRST SPORTS airs weekdays, 9am-Noon ET on FOX AM1340/93.9FM and is streamed LIVE through the I Heart Radio app at foxsports1340.com.