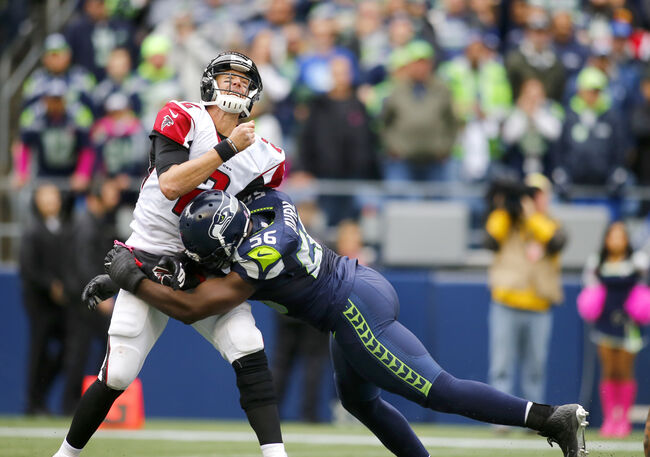 In what turned out to be a wild one last night on Monday Night Football, the Atlanta Falcons prevailed on the road over the Seattle Seahawks 34-31, keeping the pressure on both the Carolina Panthers and New Orleans Saints for top spot in the NFC South.
Matt Ryan tossed a pair of touchdowns, including the game-breaker in the third quarter that gave Atlanta a 31-20 lead. Seattle, led by Russell Wilson and his 258 yards and 2 touchdown passes, rallied in the fourth quarter and had a chance to tie the game late in the fourth, only to have Blair Walsh's 52-yard field goal attempt fall just inches short in the waning seconds.
Both teams exit the game with identical 6 and 4 marks. Atlanta remains just a game back of Carolina and two games back of the Saints in the South, while the Seahawks loss keeps them just a game back of the Los Angeles Rams, also coming off a loss last weekend to the Minnesota Vikings.
More than that though, the game once again proved that the seismic losses of both Kam Chancellor and Richard Sherman to the Seahawks defensive backfield are going to be costly late in the season. Earl Thomas was a busy man patrolling the back end of the Seattle defense, and while Ryan only complted 19 passes for 195 yards on the night, there were eight different receivers making catches in the game. Holding down high-powered offenses won't get any easier with games against the Eagles and Rams in two of the next four weeks.
It was another big night for the Falcons defense, which has re-emerged as a force to be reckoned with of late. Adrian Clayborn, fresh off his 6-sack performance last week against the Dallas Cowboys, ran back a fumble for a second-quarter touchdown while Desmond Trufant recorded five tackles and picked off Wilson in the first quarter, leading to an early scoring play from Ryan to Mohamed Sanu. Knowing how "important" and critically vital these are to our betterment as a nation, I present to you now the latest Bortstein Power Rankings.
Let the outrage begin.
1. PHILADELPHIA EAGLES
2. NEW ORLEANS SAINTS
3. PITTSBURGH STEELERS
4. NEW ENGLAND PATRIOTS
5. MINNESOTA VIKINGS
6. LOS ANGELES RAMS
7. CAROLINA PANTHERS
8. ATLANTA FALCONS
9. KANSAS CITY CHIEFS
10. JACKSONVILLE JAGUARS
You're welcome, America. I know we're all supposed to be morally outraged at what's depicted in this photo.
I know it's supposed to be horrifying, it lacks dignity and it further strengthens the notion that college athletics is -- surprise, surprise -- dominated by young kids being asked to perform super athletic achievements while receiving little to no benefit.
But I tell you this, college football has far bigger issues....
Like how in the hell did the Fightin' Blue Hens of Delaware get smacked around 28-7 by Villanova, for crying out loud???
At least that's what I saw when I looked at the bottom of this image.
Kidding aside, Mayfield's a talented kid, and yes, he's still kind of a kid. And yes, of course he should know better and yes, of course he regrets his actions. Having two or three days to reflect on the "Crotch Grab Heard 'Round Kansas" will give you time to think about what you've done.
But remember this image the next time you wonder why college athletes don't get paid. Remember this image when you find yourself defending the players and their supposed right to be paid like employees of the university in which they represent.
Because I'd argue that an employer seeing an employee grab their junk -- while on the job in front of hundreds of thousands of people on TV and live -- would have far greater liberty to do more than just suspend that athlete for an indefinite amount of time on the next occasion in which he's scheduled to work.
Consider yourself lucky, kid. You got off easy.
Now quit grabbing yourself. You look stupid. LaVar Ball appeared last night on CNN.
Read that sentence again.
Again, please.
LaVar Ball appeared last night on CNN.
Sorry. I just needed to type it once more before I moved on.
I'm not a "fake news" trumpeter. I'm not a "media elite" basher.
But I'm gonna suggest for just a moment that CNN, and any other 24-hour-news network that opts to go with this trash as a means for garnering ratings or grabbing an even stronger hold of our exceedingly low TMZ-like standards of what used to be journalism, may be in dire need of a re-evaluation of what is relevant and what isn't.
Because the business used to be better than this.
I sure hope it still can be.
And by the way, "Thank you...."
There. That wasn't difficult.