Growing up as a kid living in Colorado, watching football was the highlight of my weekend. I'd sit down with my father on a Sunday morning, whether it was at the house or sometimes it was in the pressbox of a small racetrack, and we'd watch a game.
Didn't matter who was playing, although more often than not it was the Broncos, but it didn't matter. The company was always pretty cool and the voices coming through the speakers on our enormous Zenith television were always majestic.
Dick Enberg and Merlin Olsen were the voices of football for me, and quite likely for many of you who grew up in the 80's. The game wasn't much different than it is today, but the approach to it, the availability of it and the way we digest it surely is.
Enberg was old-school. He didn't feel the need to be bigger than the story, he didn't let his emotions overwhelm you.
He painted a picture of a sporting event with a fine touch, a fluid tone and an eye for the bigger story.
"You're the voice of the fans," Enberg once said to Dan Patrick. "I like to think I've called games from my heart. You can't laugh too hard at your own joke. Hopefully, your emotions don't interfere with your reportage."
Enberg died last night at the age of 82. For those of you who've never paid attention to a play-by-play call of a game, do yourself a favor and click on the audio from the video attached above. Then forget about the video and just let the story unfold. Many of you already know the moment, but you may not remember what it sounded like.
That's how I'll remember Dick Enberg.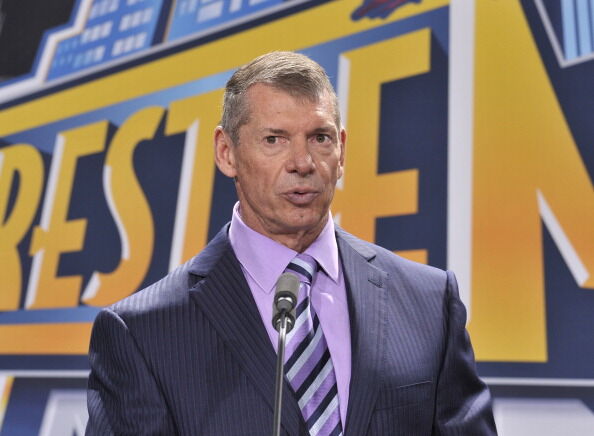 Oh, why the hell not? The clock is ticking already...
In what figures to be another interesting moment in the ongoing battle for sanity and good taste, we present the latest from World Wrestling Entertainment chairman Vince McMahon.
Seems McMahon is taking another shot at running a football league.
According to multiple sources, McMahon sold more than 3.3 million shares of WWE, equaling about $100-million.
Further, McMahon's filing with the U.S. Securities and Exchange Commission noted that the sale was "primarily to fund a separate entity from the Company, Alpha Entertainment LLC, which Mr. McMahon established to explore investment opportunities across the sports and entertainment landscapes, including professional football."
And if you're wondering if that sounds something like his joint venture with NBC -- namely, the short-lived but never imitated XFL, which lasted just one season in 2001 -- you may be right.
According to records with the U.S. Trademark and Patent Office, Alpha Entertainment filed for five trademarks to the XFL on December 16th.
The company also sought to trademark "URFL."
You can only imagine where this is going. McMahon's wife Linda is a cabinet member of the current Trump administration. Trump, who has been vocal and loud for much of this season about his disrespect for NFL players and what he perceives as a lack of respect for the playing of the national anthem, also has a "working relationship" (for lack of a better term) with Vince McMahon.
For those who may have forgotten, because goodness knows I've tried to forget it, The XFL was started 16 years ago in 2001 as an alternative to the NFL product. McMahon's league lasted only one season, but these latest reports indicate it might be on its way back.
So it stands to reason that these two entities could well come together for what should be a most entertaining kind of trainwreck.
Let's not forget one of the finer moments in the history of the Donald and Vince Show.
Could this be the end of the Seahawks?
The Seattle Seahawks may not have put up very big numbers in last weekend's 42-7 blowout loss to the Rams.
But the league sure handed them one yesterday.
The Seahawks learned that they will be levied with a $100,000 fine for a 'failure in application' of the league-mandated concussion protocol.
The fine stems from a hit Russell Wilson took from Arizona Cardinals linebacker Karlos Dansby back in Week 10 in which Wilson was initially taken out of the game to get checked for a concussion.
Thing is, Wilson was caught on tape avoiding going into the tent on the sideline to be checked only to duck out literally seconds later to return to action a few minutes later.
In addition to the fine, the Seahawks' coaching and medical staffs will be required to attend a remedial training program on concussions.
From news services