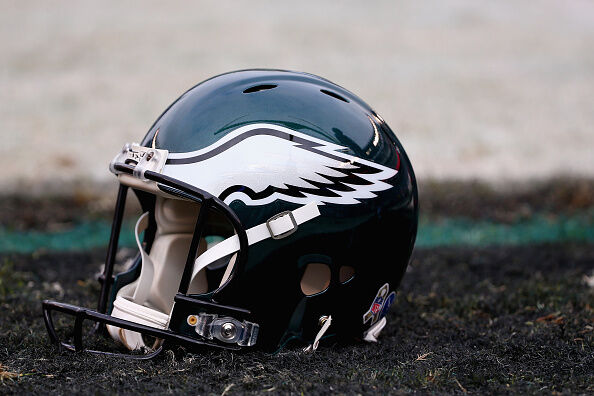 They don't win pretty, but they keep on fighting.
The Philadelphia Eagles wrapped up homefield advantage in the NFC playoffs last night with a 19-10 win over the Oakland Raiders. For the second straight week since taking over as the starting quarterback, Nick Foles did enough, but he's also done enough to make even the most ardent fans of the team grit their teeth knowing he's no Carson Wentz.
Defensively for the Eagles, this was a much more well-rounded performance than what took place last weekend when Philadelphia outscored the New York Giants 34-29.
The Eagles got after Raiders quarterback Derek Carr all night, putting him in tough position to make plays. Carr was picked off twice and was on the field for the final play of the game, which saw the Eagles saw a touchdown on a failed lateral attempt.
Meantime, the Pittsburgh Steelers answered a lot of questions about their resilience and ability to bounce back after a heartbreaking loss last week, with a blowout victory over the Houston Texans.
Quarterback Ben Roethlisberger tossed a pair of scoring passes as the Steelers trampled Houston 34-6, leaving them at least with a first round bye in the playoffs, and also playing next weekend for the potential of a top seed in the AFC with a victory and a Patriots loss. You think your team is bad?
The Houston Texans, San Francisco 49ers, Indianapolis Colts and Green Bay Packers a combined 8-34 this season without Deshaun Watson, Jimmy Garoppolo, Andrew Luck & Aaron Rodgers.
Have fun with that.
The team to beat in the NFC
These guys. Right here. The New Orleans Saints.
The major problem for the Saints is that they'll need some postseason luck ahead of them in the seedings to get a game at home.
But for the first time in a long time, the Saints don't have to rely almost exclusively on the arm of Drew Brees.
They have a balanced offensive line, they have a strong, one-two punch out of the backfield and they have a defense that makes life miserable for their opposition. Kid, you're not fooling anyone
At first glance, I can kind of understand the frustration from any highly touted college quarterback when the idea appears to be playing itself out that you could go to the Cleveland Browns.
After all, look at the historic number of other highly sought after quarterbacks who have gone on to watch their careers plummet once they donned that ugly jersey and played football in that equally ugly city.
But here's the problem. Josh Rosen, by all accounts, hates the college football landscape. He's made that abundantly clear time and again, most notably this past summer when he pulled a Cardale Jones moment on Twitter, writing "Look, football and school don't go together. They just don't. Trying to do both is like trying to do two full-time jobs."
Whether or not Rosen is not incorrect on this statement, quite frankly, is irrelevant. It's nice to know you're going to have a job after completing college. The majority of college graduates would likely sell their souls -- or at least the souls of college loan collectors -- in order to be assured a high-paying, high-profiled job immediately after school.
Rosen won't have to worry about student loans.
Rosen won't have to worry about being offered a crappy contract.
Rosen won't have to worry about having a fanbase wherever he goes.
If Josh Rosen wants to play the victim here, he's merely exploiting the very thing that too many people dislike about the NFL. That the players are afforded too much power, they think too much of themselves and apparently have no issue whatsoever in holding an entire business hostage because being a part of that business would -- possibly -- have a negative outcome on their career.
And while I'm sure newly minted UCLA coach Chip Kelly would be more than happy knowing with Rosen coming back next season, one of the main responsibilities as a coach Kelly would not have to deal with this is replacing Rosen, I'd be curious to know how others in the program feel knowing that Rosen isn't coming back for them. He's not sacrificing himself for the greater good in pursuit of a Pac-12 title, a Rose Bowl Game appearance or potentially a spot in next year's college football playoffs.
He's coming back to a college football program he clearly has a disdain for, with the sole purpose of being a snob who thinks far too much of himself before he ever gets his name called.
That's not a college football player, and I'd like to think that's a not a star on an NFL roster.