College bowl season action continued yesterday with 15th ranked TCU rallying in the fourth quarter to beat Stanford 39-37 in the Alamo Bowl. 16th ranked Michigan State rolled over Washington State in the Holiday Bowl by a final of 42-17. Meantime, Oklahoma State beat Virginia Tech 30-21 in the Camping World Bowl and Navy cruised over Virginia 49-7 in the Military Bowl. Later today, New Mexico State faces Utah State in the Arizona Bowl and tonight, 5th ranked Ohio State faces 8th ranked USC in the Cotton Bowl. The final weekend of the regular season in the NFL comes with plenty of playoff implications, but the chance at the top seed in the AFC won't change the playing status of Ben Roethlisberger or LeVeon Bell, both of whom will reportedly sit when the Pittsburgh Steelers play the Cleveland Browns. The Steelers need a win and a New England Patriots loss to the New York Jets to earn the Number 1 seed and homefield advantage throughout the postseason. Multiple sources report Landry Jones will QB the Steelers in Sunday's season finale. I wanted to compose some sort of mea culpa (an admission of error) for my transgressions in 2017.
Something to perhaps wash myself clean of the emotional stains I may have created this year.
It's nothing original mind you, we all have those things we look back on with regret, thinking to ourselves, maybe that wasn't the smartest thing to say or do at the moment.
But rather than dwell on all of those things, which only serves to remind us of how horrible we all can be from time to time, I can say this to everyone.
I did my best.
I came to work and I spoke my mind.
I came to the gym and I worked hard.
I watched friends and family come and go. I welcomed some of them back again.
I saw a monster. I saw a revelation.
I did my best, as did each and every one of you.
That's all anybody can ever ask for. Allow me this moment for a bit of a public service announcement as we approach another holiday weekend.
Lou Go's Taxi: (505) 658-4934
K B Cab: (505) 564-3999
These are just a few numbers to keep handy this weekend.
Surely you know someone - anyone - who can keep you from making a mistake this weekend. Call them if you've had a drink or two too many.
There's no glory in being out there risking your life or the lives of others.
Don't be an idiot. Enjoy responsibly and do your part to ensure others get home safely.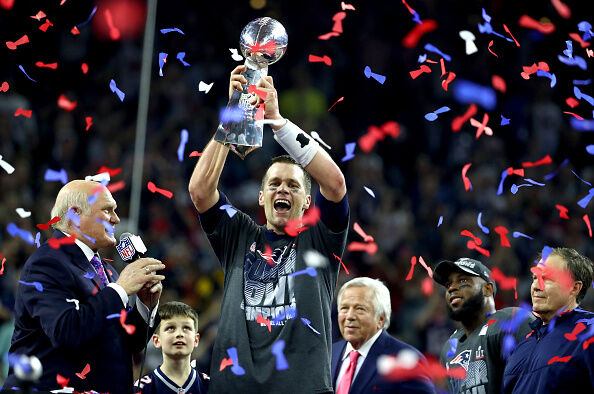 The Top Sports Story of 2017
Of course it was the New England Patriots.
Of course it was the first overtime Super Bowl.
Which followed the greatest second half comeback.
Which was orchestrated by arguably the greatest quarterback and perhaps the greatest head coach in the history of the NFL.
Which seemed all but impossible when the Falcons took a 28-3 lead with less than 23 minutes in the second half.
For the record:
Super Bowl 51 became the first NFL championship game to go into an overtime period since 1958 when the Baltimore Colts and the New York Giants played for the title.
Super Bowl LI became the first Super Bowl in history in which the winning team had never held the lead at any point during regulation. It also became the first Super Bowl in history in which the winning team did not score on a PAT kick, as the Patriots missed their only PAT attempt during the game, which occurred following their first touchdown, opted for two-point conversions after each of their next two touchdowns, and did not have to attempt the extra point after their game-winning touchdown in overtime.
Late in the third quarter, the Falcons' chances of winning were estimated at 99.8%
Tom Brady, love him or hate him, stamped himself - again - as one of the all-time greats.
This can no longer ever be argued, debated, or challenged with any sense of rational thought.
Super Bowl 51
New England Patriots 34
Atlanta Falcons 28
Final/OT
That was the best sports story of the year. Goodnight, 2017. It's been.... well, it's been an adventure.
Come on in 2018, we've been expecting you.