The college football championship game is set, after a wild finish in Pasadena and a blowout in New Orleans. The Georgia Bulldogs overcame a two-touchdown deficit at halftime to rally for a 54-48 double overtime win over Oklahoma in the Rose Bowl. Sony Michel scored the game-winning touchdown after Oklahoma's Austin Siebert's field goal attempt was blocked in the second overtime period. The Bulldogs will face Alabama, who dismantled defending national champion Clemson 24-6 in the Sugar Bowl. Quarterback Jalen Hurts tossed a pair of touchdowns while the Crimson Tide defense held Clemson to just 64 yards on the ground. The national championship game will be played Monday night at the Georgia Dome in Atlanta.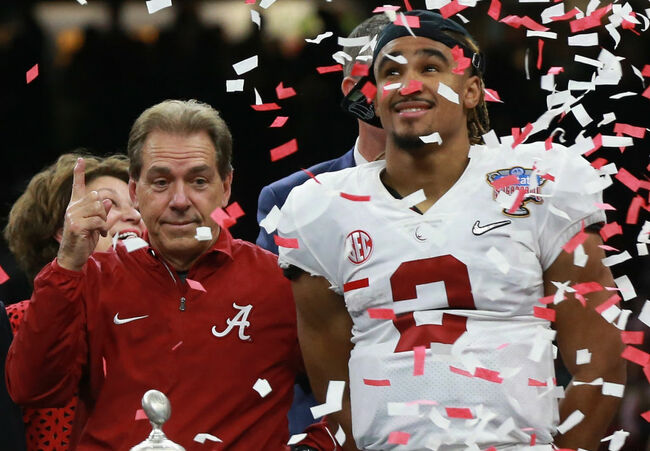 Saban does it again
I know he doesn't appear to be the most likable guy in the world of sports, but one has to marvel at the coaching acumen of Nick Saban.
It's almost as if he, along with Patriots head coach Bill Belichick, have got this whole coaching thing just down to a science. Merely typing that sentence just makes me think it's all the more obvious, and whatever you may think of their personalities, their bravado, their ego - whatever you want to call it - they just have a way about them that apparently makes their players think nothing is out of their reach. Jack Del Rio got a raw deal
I'm gonna stick to my guns on this one and remain incensed for some time at the way all of this has gone down.
Let's consider for a moment one unmistakable fact.
Until I hear otherwise, and until that statement comes from both the Oakland Raiders and the National Football League, the Raiders -- should they make it official and hire Jon Gruden as has been predicted -- are in violation of the so-called Rooney Rule.
What is the Rooney Rule, you ask?
Allow me.
According to Wikipedia, the Rooney Rule is a league policy that requires teams to interview minority candidates for head coaching and senior football operation jobs. It is sometimes cited as an example of affirmative action, though there is no quota or preference given to minorities in the hiring of candidates. It was established in 2003, and variations of the rule are now in place in other industries.
Since the Rooney Rule was established, several NFL franchises have hired African-American head coaches, including the Pittsburgh Steelers, who hired Mike Tomlin before their 2007 season.
The rule does not apply if an assistant coach has language in his contract guaranteeing him the head coaching job in case of an opening. For example, this was the case when Mike Martz took over as head coach of the St. Louis Rams before the 2000 season. Also, the requirement does not apply if the assistant coach taking over the head position is a minority, as was the case with Mike Singletary and the San Francisco 49ers in late 2008.
As of June 15, 2009, Rooney Rule requirements now apply to all searches for senior football operations positions within the NFL, regardless of a team's title for that position. It now also includes all ethnic minorities, not just African Americans.
Recently, legal scholars have advocated for extending the Rooney Rule to college football, where the number of minority head coaches hovers around 6%, which is significantly lower than the 12.6% of the total US population which is African-American.
In 2003, the NFL fined the Detroit Lions $200,000 for failure to interview African-American candidates for the team's vacant head coaching job. After Marty Mornhinweg was fired, the Lions immediately hired former San Francisco 49ers head coach Steve Mariucci (a native of the Upper Peninsula of Michigan) to replace him without interviewing any other candidates. The Lions claimed they attempted to interview other candidates but that the African-American candidates withdrew from interviews, believing Mariucci's hiring was inevitable. The Lions wouldn't have a minority head coach until hiring Jim Caldwell in 2014.
We're not here to question the validity of hiring Gruden, though I'll make a point that aside from his Super Bowl success in Tampa Bay, Gruden's coaching tenure there shows very little (post-2002, Gruden compiled a 45-51 regular season record and was 0-2 in the playoffs in six seasons with Tampa Bay).
It's simply the manner in which he is being chosen. And if we're going to be transparent, if we're going to be equal parts accountable as well as responsible in this uncomfortable little world of ours, then it should start with the franchises and businesses we seek for our entertainment dollar.
As for Del Rio, I made the case some time back that I really wanted to see him as head coach of the USC Trojans. Seems to me there's no better time than right now to welcome him back to the fold, even it does have to come at the expense of Clay Helton.
Stay tuned. You just have to love the Bills
This organization should write a book on how to mess up a season and still make the playoffs.
Let's take a look back at a wild 2017:
January: Fired virtually their entire coaching staff, including head coach Rex Ryan, defensive coordinator (or whatever they were calling him at the time) Rob Ryan, as well as offensive coordinator Anthony Lynn.
April: Traded first round selection to Kansas City - who in turn took quarterback Patrick Mahomes.
April: Brandon Beane was named general manager, replacing Doug Whaley, who was fired along with the team's entire scouting staff on April 30, 2017, less than 12 hours after the conclusion of the NFL Draft. Over the course of the 2017 offseason and into the regular season, many of Whaley's draft picks from previous years were purged from the roster in trades and cuts.

Despite all the offseason turmoil (and even quite a bit of it during the season) the Bills still found a way to make the playoffs, for the first time in 18 years. The Bills won three of their last four games during the regular season and finished with a record of 9-7.
They'll get a chance to prove they belong this Sunday when they travel to Jacksonville to face the Jaguars. And yes, I'm still quite bitter about this fiasco!
The coin is supposed to flip.... for crying out loud!
See the video!