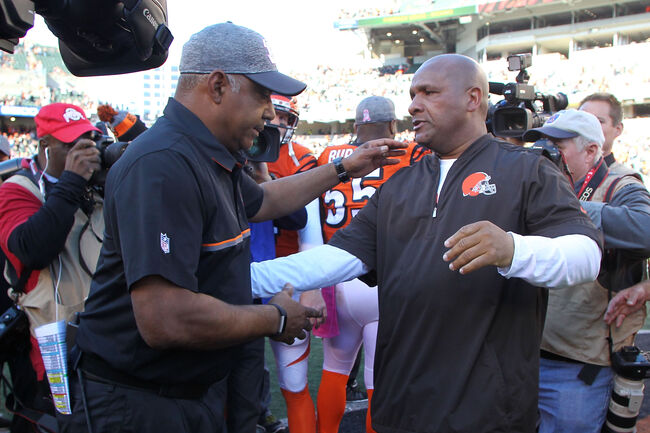 Here they are folks, Marvin Lewis and Hue Jackson.
Consider these two men for a moment. Lewis, coach of the Cincinnati Bengals for what must seem like an eternity now (especially for fans of the team), and Jackson, who has compiled a stunning record of 1-31 in his two years as the coach of the Cleveland Browns.
I don't understand the motivation inside the front offices of either franchise to retain these coaches, but I suppose I can understand the lack of motivation for anyone else to want to be the coach of these organizations.
But it does bring up one serious flaw in the theory about wanting to be challenged on the job.
When you're good at what you do - and I'm going to assume that neither Lewis nor Jackson achieved the level of head coach in the NFL because of their personalities alone - you want to be challenged. You want to be a difference maker, in whatever profession that might be.
This is not to say that these gentlemen don't want to be the difference makers for their respective business partners, but what does it say about other potential head coaches who may have shied away from opportunities with either Cincinnati or Cleveland?
Which also lends to the discussion about the so-called "Rosen Factor", regarding UCLA quarterback Josh Rosen, who reportedly is considering staying in college to avoid being the number one pick in the NFL Draft this spring because he doesn't want to play in Cleveland/
I understand that to a degree. I've been to Cleveland. It best resembles a sewer. I'm not a fan.
But I'm also someone who understands that the best way to be considered exceptional at your job is taking an opportunity with a business and turning that opportunity into a success.
The same can be said for coaches. It's not always supposed to be about the cushiest job in the NFL. I'd always thought the challenge was the key.
I'd read a lot this week about the coaching vacancy with the New York Giants as being the most sought-after gig available at the current moment.
And I guess I understand that to a degree. I love New York City. I love the people, the lifestyle, the frantic-like nature of the big city.
I also love the way the local media pounces on failures like vultures swarming in on roadkill. I love the fans that would just as soon sacrifice their own in order for a winning team.
Passion for a product is a good thing. Wanting a good home for your family is a nice perk to a promotion.
But neither Cincinnati nor Cleveland are doing a good job in attracting viable head coaching candidates. And that's why Lewis and Jackson are staying on as coaches in these cities.
Kinda makes me want to cheer for them a little bit more.
Of course, I still want to revel in the splendor of the 0-and-16 Browns for just a few more days. Hall of Fame finalists named
The 15 finalists for the Pro Football Hall of Fame's Class of 2018 includes four former players who are in their first year of eligibility.
The modern-era finalists revealed Tuesday night include linebacker Ray Lewis, wide receiver Randy Moss, guard Steve Hutchinson and linebacker Brian Urlacher. Those four players finished their careers with a combined 34 Pro Bowl selections and 20 first-team All-Pro selections.
Tackle Tony Boselli, wide receiver Isaac Bruce, safety Brian Dawkins, guard Alan Faneca, tackle Joe Jacoby, running back Edgerrin James, cornerback Ty Law, safety John Lynch, center Kevin Mawae, wide receiver Terrell Owens and cornerback Everson Walls are the other finalists.
The Class of 2018 will be chosen by the Board of Selectors at a meeting Feb. 3 in Minneapolis, Minnesota -- the day before Super Bowl LII. At that meeting, the list of modern-era finalists will be trimmed to 10 and then to five.
The five finalists will then be chosen on a yes-or-no basis, and those who receive 80 percent approval will be enshrined next August in Canton, Ohio.
From news services This man will never know what
it feels like to be a gangsta!
Rodriguez fired at Arizona amid allegations
The Arizona Wildcats are parting ways with head football coach Rich Rodriguez after investigating a claim of sexual harassment against him. They have fired the 54-year-old after 6 seasons. The university began investigating the allegation in October. The school issued a statement saying, after conducting a thorough evaluation of the program on and off the field, it's in the university's best interest to go in a new direction. Rodriguez also issued a statement admitting to having an extramarital affair with someone not affiliated with the university. He also denies any sexual harassment.
Photo USA Today