In a pair of announcements which came as a surprise to absolutely nobody, USC quarterback Sam Darnold and UCLA signal-caller Josh Rosen both declared themselves eligible for this spring's NFL Draft.
Rosen, who posted his announcement on Twitter last night, was considered by some to be a wildcard (for lack of a better term) when he publicly disclosed recently that he he didn't particularly look forward to the prospect of being selected first by the Cleveland Browns.
Editor's Note: Dear Josh, no one really wants to play for the Browns.
Darnold's announcement of his decision followed Rosen by about an hour last evening. Darnold chose Instagram to make his announcement, which if nothing else, shows the immediate and categorical differences in tastes for social media platforms.
Enjoy the next phases in your lives kids.... and make sure to embrace the zero, Josh. Life will be a lot easier in the long run. UCF will celebrate championship they don't possess
The University of Central Florida is going to hold a parade to commemorate their Peach Bowl victory last weekend and the completion of an undefeated season.
They're even going so far as to call themselves national champions because of their lofty status as the only unbeaten team in the top tier of college football.
Which is pretty outstanding, the unbeaten season. They met all their challenges and succeeded in overcoming them. That's pretty extraordinary and no one can take that from those kids, their coaches and trainers. Congratulations.
But you're not the national champions. Not by any official, sanctioning body or anything which deals with reality, logic, common sense nor by any mathematical metric you may have concocted in a lab.
You're the champions of the Peach Bowl, and we're all real impressed by that.
But no matter what the banner states atop your football program's official Twitter page, no matter what pennant you may choose to raise in the stadium nor what big sign you plaster onto a fire engine down the main drag in Orlando this week, you're just not the national champions.
The lure of Disney World's theme, "the place where dreams come true" is clearly getting to you guys, because this entire notion is delusional at best. Which, on a side note, I'd like to announce I'll be holding a parade as well as a big party this weekend to celebrate my engagement and pending marriage to actress Jennifer Lawrence.
Now bear in mind, Jennifer is completely and totally unaware of any of this engagement stuff. Not to mention that she has never met me, never heard of me and quite likely would consider any talk of engagements or weddings to be irrational and perhaps grounds for a restraining order to be filed against me.
But if UCF can hoist a banner and parade down (the other) Main Street in Orlando for making themselves out to be something they're not, then I think it's more than appropriate for Miss Lawrence to realize her fate as well.
I'll leave a seat open next to me in the Grand Marshal car for you, J-Law. Trust me, you'll love it here in Farmington!
It's this kind of illogical passion that I equal part enjoy and detest about the college football playoff discussion. And it also verifies that no matter what random number of teams you choose for any future playoff system, there will always be one team, one school, one football program that's going to feel left out.
Thus, we have UCF and their fake national championship.
At some point in time this week, I'll have to turn off the party music and call off the ticker tape parade because reality is I'm not getting engaged to, nor am I marrying Jennifer Lawrence.
She could do a lot worse, I imagine, but that's another story.
The Knights of Central Florida are not the national champions of college football. Could they be? Perhaps. But that's (much like the phony engagement) sadly, another story.
Enjoy the parade, kids!
And yes, I am posting a photo here of my not-really future bride. Because even if Jennifer and I aren't gonna be parading down Main Street, I have as much access to silly images and mixed media functionality as UCF does, so I too can make dreams come true!
You're welcome.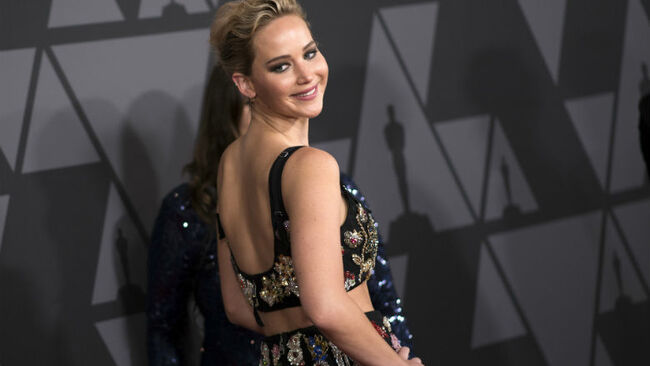 Elway speaks vaguely about truth
With the NFL playoffs starting this weekend, one team not in action is already thinking of the future.
John Elway, vice president of the Denver Broncos, told reporters that in order to compete next season, the team must do better at the quarterback position.
Now, whether that means the Broncos will draft a quarterback this offseason, pursue one via free agency or trade or simply hope for better production from their current crop next season remains a mystery.