There's a palpable sense of (insert your own emotion here) when it comes to how you perceive Alabama head football coach Nick Saban.
It's the same emotion, I imagine, one feels when they witness something before unexplained but always out there in the ether. It may be a sense of impending doom, it may be a sense of discomfort or it may be a sense that whatever comes his way -- almost every single time -- the man seems to be one step ahead of the game.
Thus, it should have come as no surprise when Saban opted to pull one of the greatest magic tricks, on the biggest stage of them all, on his way to his sixth national championship as Alabama prevailed in overtime 26-23 over the Georgia Bulldogs.
Oh, you think Georgia has a red-hot freshman quarterback?
Oh, you think Georgia is the only team with a knack for the dramatic overtime victory?
Oh, you think Georgia's stifling defense will keep the Crimson Tide down all evening long?
Think again. It's not truly a case of you love this man or hate this man.
It's envy. It's wishful thinking that when called upon, you'd be able to stand by a controversial, questionable and (for lack of a better term) ballsy decision with 30 minutes left to play in the national title game in college football.
When Saban elected at the end of the first half to pull quarterback Jalen Hurts and his nearly flawless record of 25-2 as a starting quarterback, in favor of the untested, virtually unseen and almost certainly unexpected freshman quarterback Tua Tagovailoa, it had to be seen by some as a measure of desperation.
Perhaps it was.
"Just without the absence of a passing game and being able to make explosive plays and being able to convert on third down, I didn't feel like we could run the ball well enough," Saban said after the game about the quarterback change. "I thought (Tua) would give us a better chance and a spark, which he certainly did."
Down 13-0 at the half, it was a gutsy move. The kind that either blows up in your face as a coach, or makes you look like a legend.
Slowly but surely, Alabama chipped away.
And let's be clear here, the first half wasn't pretty for Alabama. They were outhustled, they couldn't sustain drives, they weren't able to contain Georgia's defense and they couldn't get the Bulldogs offense off the field.
Time of possession at the end of the first half was dramatically in favor of Georgia.
But it was only a 13-point deficit.
It could have been much worse. Two good early drives by the Bulldogs resulted in field goals instead of touchdowns. Minimal damage at best, and even with the late first half touchdown run by Mecole Hardman, Georgia couldn't feel too comfortable.
Because the man on the other side of the field was not done, and he was about to play his last card.
Saban gets the credit for making the call here. Saban gets the coach of the year award for making this decision that he knew was going to cause disruption -- and may still, regardless of the result -- but was in the best interest of his football team at the moment.
The rest, as they say, is history.
Alabama 26-Georgia 23 (Final/OT)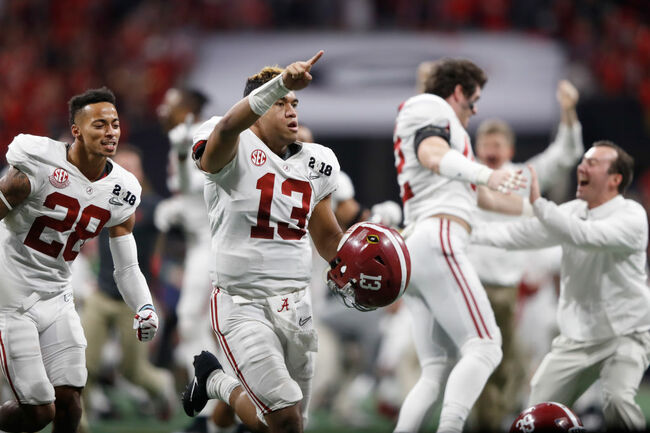 The game-winning touchdown pass was as much miraculous as it was perfect.
After Georgia kicker Rodrigo Blankenship gave the Bulldogs a 23-20 lead in overtime, it was Alabama's turn to respond.
And on the very first play, all seemed lost. Tugovailoa gets crossed up in the backfield trying to evade a couple of Bulldog defenders, but is swallowed up for a 16-yard loss and most certainly out of field goal range for kicker Andy Pappanastos, who'd already missed two field goal attempts earlier in the game, including what would have been the game-winner in regulation.
Second and 26, from the 41-yard line.
What a finish. Kerr pushes back on coverage of LaVar Ball
Golden State Warriors coach Steve Kerr has never really been one to mince words.
But those words oftentimes come with a sly smile, a smirk if you will. As if he already knows the answer to the question before you've ever thought of asking.
I enjoy those kinds of people, because they'll tell you precisely what's on their minds.
Sometimes, brutal honesty is the best kind.
Yesterday, Kerr joined in with Dallas Mavericks coach Rick Carlisle to express his feelings on what is considered to be an unfettered, unrestrained and certainly uncensored access to comments made by LaVar Ball, the businessman behind Big Baller Brand and the father of Los Angeles Lakers rookie point guard Lonzo Ball.
Last weekend, the patriarch of the Ball family criticized Lakers head coach Luke Walton and suggested that the second-year coach of the Lakers had lost control of the locker room and that the players didn't want to play for the man.
Ball has done this before. Last season, he was publicly critical of Steve Alford, head coach at UCLA. He's also been vocally critical of basketball coaches at Chino Hills High School, where Lonzo's brothers LiAngelo and LaMelo also have played.
But this is a different kettle of fish now. You're dealing with the NBA, and you're playing with the careers of men who have spent years, sometimes decades perfecting their craft.
And regardless of what you think of these men's ability, and regardless how loudly you parade yourself in front of a microphone, your words are attempting to undermine another man's career. And the fact that a major news outlet reports on these things with little to no restraint at all is, and should be, concerning to everyone involved.
Kerr voiced his displeasure, not all of it directed at Ball, but at the amount of access given to him by ESPN, and the seemingly endless amount of diatribes tossed around by people who clearly have mastered the use of a microphone, even if the noise going into the microphone is nothing more than just a distraction and a lot of hot noise.
"People are eating out of his hands for no apparent reason," Kerr said. "Other than that he's become the Kardashian of the NBA or something.... Do you know how many parents of my players have probably been at home like, 'Man, he should be playing my kid?' And yet, we're sticking a microphone in his face because, apparently, it gets ratings."
This is not about ESPN solely because this is a symptom. We've become numbed to a societal norm where shock value and rhetoric has replaced any form of decency, logic, or common sense.
Not only have we numbed ourselves to it. In many cases, we've embraced it, endorsed it and given up on any sense of rational, critical conversation.
I know I make this plea a lot, and I know it's so much easier to simply acquiesce to our own lowest common denominator. But this isn't the time or the place to submit to such whims.
Not everything you read is untrue.
Not everyone's word is dishonest.
Not everyone's intentions are pure.
This works both ways, regardless what it is you're looking for. But we've become a herd of wild animals, incapable of reason and willing to sacrifice everything around us just so we can point fingers and direct insults at people and places and interests without so much as a thought of the repercussions.
Thank you Steve Kerr, for being another voice out there reminding us that we can do better.
We sure as hell need to do that. Sunday's NFC Divisional Round Preview
(NFC Divisional -- New Orleans at Minnesota - Line: Vikings -3.5)
Had to love the effort from both Saints QB Drew Brees as well as Panthers signal-caller Cam Newton, and as a fan of studying the mental aspect of the quarterback position, I can tell you that a lot will go into the mental acuity factor this weekend. Case Keenum has been under his own microscope the last few weeks, particularly with the return to the sidelines of Teddy Bridgewater, who most certainly will be a hot topic when it comes to his future. If Keenum does well and leads the Vikings to the Super Bowl, do you let him go because Bridgewater will be fully healthy next season? If Keenum is showing signs of distress this weekend against the Saints or gets dinged up or plays poorly, does head coach Mike Zimmer knee-jerk that reaction to bring in Bridgewater, who's thrown only a handful of passes since his devastating knee injury 17 months ago? Meantime, on the other side, a Super Bowl winning coach, Super Bowl winning quarterback and a defense that has come back on a number of critical situations. One last thing....
I don't care if POTUS knows the anthem. I'm fairly convinced that whatever this man knows or doesn't know would likely horrify or depress me, so I'm going to concede that he just mumbled some rhetoric during what was a pretty cool rendition of the national anthem.
What I would like to point out to POTUS is that once again, before the start of a major college football game, not a single player or coach of either team was on the field for the anthem.
POTUS likes to make the flag and the anthem his little crusade against the NFL. Yet he refuses to acknowledge what's been a longstanding tradition in college football, and what used to be the norm in the NFL.
Fans, you're mad at the players for taking a knee in the NFL. I get that. But your anger should be at the league who put a pricetag on patriotism.
POTUS, you're mad for a lot of different reasons. Maybe some of them are justified, but your shallow attempts at continuing to divide and conquer the better nature of man is surely eroding faith in too many of us, myself included.
I will talk back. I'm starting to believe that more and more people are doing the same.