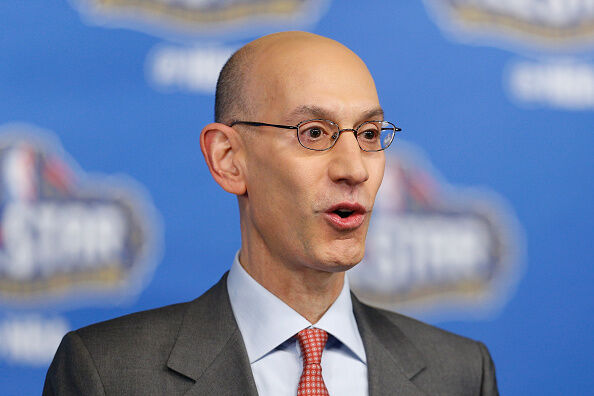 So, the NBA held a draft last night.
NBA All-Star teams were drafted by team captains LeBron James and Steph Curry in preparation for next month's game. James and Curry were named All-Star captains after leading their respective conferences in voting. The two stars chose teams without regard for conference affiliation from the pool of starters and reserves.
The draft involved every superstar you've heard of this season, but most likely haven't watched.
The draft involved drama. It involved players crossing conference and team affiliations. It will mean rival will face rival in next month's All-Star game, which will be played on one of the grandest stages in the league inside the Staples Center in Los Angeles.
And you didn't get the chance to see any of it.
The NBA and commissioner Adam Silver made the boneheaded decision not to televise the draft, for who knows what set of reasons because none of them frankly make any sense.
For the record, and since I know you'll be able to better get through your workday having this information in front of you, let me introduce you to what I assume will be referred to as "Team James" and "Team Curry".
Team James
Kyrie Irving, Kevin Durant, Anthony Davis, DeMarcus Cousins, Bradley Beal, LaMarcus Aldridge, Kevin Love, Russell Westbrook, Victor Oladipo, Kristaps Porzingis and John Wall.
Team Curry
Giannis Antetokounmpo, DeMar DeRozan, James Harden, Joel Embiid, Damian Lillard, Jimmy Butler, Draymond Green, Kyle Lowry, Klay Thompson, Karl-Anthony Towns and Al Horford.
You got all that? Good.
I refuse to take seriously any event in which the events leading up to said showcase are going to be held in secret. And perhaps we're doing this in some laboratory in the middle of Area 51, but I don't care. If one of the primary reasons to do this in private -- added to the fact we have no idea how the actual order of the draft unfolded -- is to protect egos or reputations of multi-millionaire superstars, then I see no reason as a fan to support a product which volunteers to leave its audience in the dark. The Message Is Clear... or it soon may be
I do not want to be the alarmist in the room.
I don't want to be the conspiracy theorist.
But the reality is that I am that person.
I'm a good salesman on my best day. I'll work really hard to convince a blind man he needs glasses.
But I'm not a great pitchman.
Vince McMahon, the chairman and CEO of World Wrestling Entertainment? He's a really good salesman.
And yesterday, he sold you a bill of goods on what I'll refer to as the supposedly "new and improved" XFL.
McMahon claimed in his 20-minute press conference yesterday to announce his intent to restart the league in 2020 that the league would be more "family-friendly", which I can assume means there will be far fewer scantily-clad cheerleaders than we saw in the league's initial and only season in 2001.
"We will present a shorter, faster-paced, family-friendly, and easier to understand game," McMahon said. "It's still football, but it's professional football re-imagined."
Another edict which came from McMahon during this press conference was the one which caught my attention.
"The national anthem is a time-honored tradition that's played to this day and many, many years in the past prior to most athletic events in our country and other countries," McMahon said. "Whatever our rules are is what everyone will abide by."
McMahon went on to say that players with social agendas would have time on their own to further their cause or their own agendas.
"There's plenty of opportunity and plenty of ways in which players, coaches, members of the media can express yourselves in terms of your own personal views as far as social aspects are concerned," McMahon said. "When we come onto the field, we're here to play football. That's everyone's job."
There's a lot of reasons to believe that particular ideology, as well as the decision to restart the XFL at this time, is rooted from the attention garnered by the NFL in regards to the so-called anthem protests. For whatever stance you took in regards to the protests, you as a fan were reminded of it almost on a constant basis.
POTUS, on more than one occasion both during his campaign and during his time in office, made reference to the protests. At one point during this past regular season, POTUS referred to a player who chose to kneel during the anthem as a "son of a bitch".
McMahon's wife Linda, currently the Administrator of the Small Business Administration, under POTUS.
So to suggest this is some far-fetched logic on my part to think these two thought processes couldn't come together is a bit insulting and quite frankly dangerous.
I don't expect the XFL to be a success. In fact, it wouldn't surprise me at all to see it never come to fruition. I'm not cheering for it or against it.
I'll be too busy watching college basketball as well as awaiting the start of Major League Baseball.
But what I will tell you is this. If you want to know the true agenda of the league, if you want to know what kind of message(s) the league will be sending, and if you want to know what audience the league will cater to in the eight (so far unknown) cities which will host teams, all you'll need to do is follow the money.
Find out what businesses will partner with the league. Seek out information about which businesses the league is approaching. As an active consumer, you'll have access to this information at every turn.
There is a twisted irony to the timing of the restart of the XFL.
And if you think about it, and if you ponder the notion that McMahon specifically talked about different platforms in which to broadcast games and to promote their product, the timing and the ability to reach a specific audience is both brilliant and exceedingly manipulative.
The definition of propaganda, according to Merriam-Webster is: the spreading of ideas, information, or rumor for the purpose of helping or injuring an institution, a cause, or a person.
The very word instills an idea of anger or fear. It implies aggression and strength, an ability to divide.
All in the name of good old fashioned, family-friendly, flag-waving football.
The re-election campaign for POTUS will be in full swing by the start of the 2020 season's opening kickoff.
Follow the money. Gun Runner heavily favored in Pegasus
The world's richest horse race is happening tomorrow at Gulfstream Park in South Florida.
The field, from the rail out, for the $16 million Pegasus World Cup, looks like this:
1: Singing Bullet, 30-1
2: West Coast, 8-1
3: Stellar Wind, 30-1
4: Sharp Azteca, 6-1
5: Collected, 8-1
6: Gunnevera, 15-1
7: Fear the Cowboy, 30-1
8: War Story, 25-1
9: Toast of New York, 20-1
10: Gun Runner, 4-5
11: Seeking the Soul, 25-1
12: Giant Expectations, 30-1
Gun Runner, the heavy favorite on the morning line and likely overwhelming post time favorite, was named 2017's Horse of the Year at the Eclipse Awards handed out last night near Gulfstream Park. This will be the final start in his career, which has seen him win last year's Breeders' Cup Classic at Del Mar as well as three additional Grade 1 races during a remarkable campaign.
We'll have complete coverage, analysis and more from the Pegasus World Cup Invitational this weekend on "The Fast Track", our national horse racing show, presented by SunRay Park and Casino, airing live on weekends at 10am ET on the I Heart Radio app through our website at foxsports1340.com