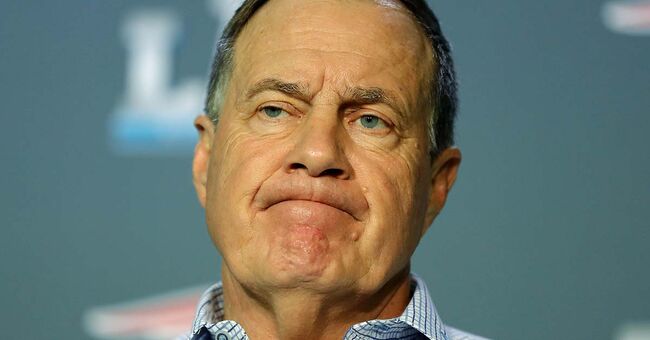 Our big NFL story lines this week heading into America's biggest sporting event has had nothing to do with the Super Bowl.
There is still a lot of fallout from the announced trade of quarterback Alex Smith from Kansas City to Washington, and with that, the likely departure of Kirk Cousins from the Redskins to.... well, who really knows at this point?
Patriots wide receiver Rob Gronkowski is still listed as being on the concussion protocol, but the likelihood of Gronkowski not playing this Sunday against the Eagles is the same likelihood there is of me coming home from work this afternoon to find Jennifer Lawrence waiting for me with a cold beer and a backrub.
It seems the lack of a storyline is more on the media, which are either fully embracing or completely avoiding the "Brady as a legend" headline.
Apparently, you can't have this discussion without it turning into some sort of debate about whether you're a "fan" of Brady or if you're just another so-called media hack who refuses to acknowledge the history of cheating scandals and overall chicanery of the Patriots organization as a whole.
The Eagles aren't getting a great deal of respect at all this week from media types, and that's a shame because there are quite a few compelling stories on this team. Obviously, the spotlight shining on quarterback Nick Foles is an enormous one, but a strong Eagles defensive front seven as well as coach Doug Pederson's pre-game planning for Sunday should have them ready to challenge the Patriots.
As we get closer to game day, a reminder for locals that our exclusive coverage of Super Bowl 52 gets underway on Sunday at noon from Westwood One Sports. Presented by Aaron's Sales and Lease and No Worries Sports Bar and Grill, we'll take you all the way to kickoff as well as live play-by-play coverage of New England vs. Philadelphia. You can hear every second of the game on FOX AM1340/93.9FM. Because nothing would feel right in our sports world if not for intermittent updates from off-again, on-again retired boxer Floyd Mayweather. Yesterday, Mayweather posted a 14-second video on Twitter of himself inside an octagon asking "what are the odds" of an MMA fight. I know we're again waiting with bated breath for more on this story.
Mayweather last competed in the boxing ring this past August when he defeated UFC champion Conor McGregor. Mayweather stopped McGregor by TKO in Round 10, and afterward said he's officially retired from fighting.
If there's one thing Mayweather is good at, though, it's keeping his name in the headlines consistently.
Who knows if the video will actually confirm anything. Most likely, Mayweather, who seems to enjoy the constant teasing of his own massive ego, is just hoping for a little more attention.
But we thought we'd at least oblige and make mention of the man. After all, that's precisely what he wanted. I'm generally not a fan of the Super Bowl halftime show.
The game itself is grueling enough on my capacity to avoid sensory overload.
All the lead-up, the hype, the 11 constant hours of pregame rituals, predictions, over analysis, etc.
Add onto that, the paranoid theory of someone inside the offices of South Carolina Governor Henry McMaster monitoring my smart TV to determine if I'm indeed standing for the anthem inside my own home as "required" for his residents via a useless proclamation.
Side note... It's very likely I'll be standing in time for the anthem. There's a very good chance I'll be in my kitchen, preparing another bowl of whatever deliciousness I'll have made for the gametime feast. There's also a possibility I'll be standing over or sitting on my toilet. I'm quite certain whatever it is you'll be doing at that moment will have absolutely zero impact on anyone or anything. So stop talking about it already.
The halftime show, for some, is a chance to be entertained. The elongated break in the middle of the game is a time for me to step away, gather some notes on what I've seen, maybe some post thoughts on a blog before another return to the kitchen for some second helpings of deliciousness right before the second half kickoff.
Justin Timberlake is quite an exceptional performer. I do happen to enjoy some of his work, be it music or on film.
But while I'll admit right now to not being surprised at all when I hear that Janet Jackson shows up on stage this weekend to (hopefully) avoid another wardrobe malfunction, or at the very least, recreate it with some silly gimmick behind it, it's going to take a lot more than that for me to care at all about the event. Yes, that was quite a super moon last night.
The light clouds in the early evening sky added an eerie, yet almost sublime element to the glow.
Good company helped the glow as well. Even as I was fighting a bit of a panic attack. Speaking of that panic attack....
Last night was a doozy. Maybe it was the full moon, the super moon, the blue or green or red moon, whatever the hell that thing was last night.
Maybe it was just me #Accountability.
But I am reminded that sometimes, even my most favorite songs from long ago, upon further reflection, need to be reinterpreted.
Such is the case with this song, "Face The Face", by Pete Townshend. I hope you'll enjoy....
Among my favorite verses in this song:

You must have heard the cautionary tales
The dangers hidden on the cul-de-sac trails
From wiser men who've been through it all
And the ghosts of failures spray-canned up on the wall

You must have tried and defied belief
Maybe found futility in insular grief
I need your hunger you need mine
A million appetites can swallow up time