The Philadelphia Eagles are your Super Bowl 52 champions.
Quarterback Nick Foles threw for three scores and caught a touchdown pass of his own as the Eagles held off the New England Patriots 41-33 in a shootout in Minneapolis. Foles passed for 337 yards and earned the game's Most Valuable Player award, while coach Doug Pederson led the Eagles to their first league championship since 1960. Former Patriot running back LaGarrette Blount carried the ball for 90 yards and also scored a touchdown.
Quarterback Tom Brady threw for three touchdowns and for more than 500 yards in a losing cause. Brady, who was named the league's most valuable player for a third time this past weekend, was forced to play without wide receiver Brandin Cooks for much of the game after he sustained a head injury in the first quarter.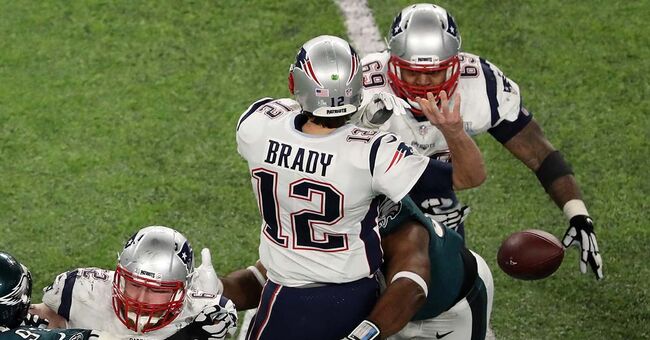 This is how dynasties collapse
And so - again - a fumble will determine the fate of the Patriots.
The strip-sack fumble caused by Brandon Graham just a shade in front of the 2-minute warning in the fourth quarter of the Super Bowl wasn't the only big play made by the Philadelphia Eagles last night on their way to a dramatic 41-33 victory over the Patriots in Super Bowl 52.
But it may have been the most ironic.
It could be argued that much of the "dynasty" label attached to the Patriots for more than a decade started on a snowy day in Foxboro in 2002.
AFC Championship Game, facing the Oakland Raiders. Brady in the fourth quarter, down by 3 points on the wrong side of the 2-minute warning.
The strip-sack by Charles Woodson that would have sealed the deal for the Raiders was instead ruled an incomplete pass.
The rest would be history.
The Patriots would go on to establish themselves as perhaps one of the greatest dynasties in sports history. Eight conference championships, five Super Bowl wins.
The Raiders? After losing the Super Bowl to their former (and now, current) coach Jon Gruden and Tampa Bay, the Raiders would spend the next 15 years finishing above .500 only once.
Go back and watch the play by Graham from last night. Watch Brady's arm go forward -- almost by instinct -- without the football.
The dynasty began more than 16 years ago.
It may have come to an end last night.
I know that's little consolation for Raiders fans who still have nightmares about what took place 5,860 days ago.
But if you're really looking for the ultimate redemption tale for the 2018 season, which is now 7 months away, put a few heartfelt dollars on Raiders vs. Eagles in Super Bowl 53.
Again, it doesn't help much for Raiders fans with a massive chip on their proverbial shoulders.
But I'm trying to provide a guiding light. The Nick Foles dilemma
Nobody in Philadelphia today will be sober or coherent enough to consider this story, but I'll just toss this out there for future reference.
Through no fault of either Carson Wentz or Nick Foles, the Eagles have a quarterback controversy on their hands.
Or they risk becoming the team that decides to part ways with the QB who went unbeaten in the 2017 NFL postseason and led his team (as a backup no less) to a Super Bowl triumph.
Let's be honest, there's no way Foles accepts a role as the backup quarterback for the Eagles next season.
But there's no way Wentz goes to training camp alone this summer. The knee injury which sidelined him at the tail end of the regular season may or may not be 100 percent repaired, so Foles should and could be ready to go if called upon.
But it's damn near impossible to imagine the guy who threw for three scores and caught a TD in the Super Bowl holding a clipboard and donning a visor on the sidelines next season.
Speaking of Philadelphia....
The award for "Most Flowery Headline" goes to the Associated Press this morning.
"Philadelphia is cleaning up after its late-night street celebrations, where some overzealous fans smashed windows, climbed traffic lights and trashed some convenience stores."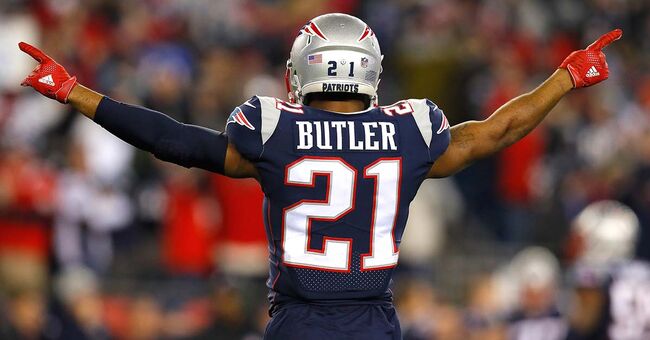 The Butler Did Something.....
Malcolm Butler, once a New England Patriots Super Bowl hero, didn't play a single defensive snap in Sunday's 41-33 Super Bowl LII loss to the Philadelphia Eagles.
After the game, the cornerback didn't have anything to say as to why he didn't play in the biggest game of the season.
"I ain't got nothing to say," Butler told reporters in the locker room after the game, per NFL.com's Kevin Patra.
The former Pro Bowler opened up a little more as he walked to the team bus.
"They gave up on me. F---. It is what it is," Butler said, per ESPN's Mike Reiss. "I don't know what it was. I guess I wasn't playing good or they didn't feel comfortable. I don't know. But I could have changed that game.
Butler saw some playing time on special teams, but that was the extent of his playing time as Stephon Gilmore, Eric Rowe and Johnson Bademosi saw nearly all the playing time at corner for the Patriots.
It appears the decision to hold Butler out was made shortly before the game. Rowe told reporters after the game that he wasn't originally supposed to start.
Defensive coordinator Matt Patricia wasn't much help during his postgame presser.
There are more than a dozen or storylines to dissect, analyze and ponder over this morning. We'll try and get to all of them on a very busy show.
I always look forward to recap shows like these. Fans have a lot of passion and emotion for what they just watched.
I'll share some of my thoughts of events, both on and off the field, this morning on FIRST SPORTS.
Hope you tune in, and if you do, let us know your thoughts on the game on the FOX Phone Lines at (505) 325-8255 or toll-free at (866) 345-8255. You can also access the show by texting us at (505) 330-2327 or via Twitter @Fox1340AM