 NBA action last night, and with a just couple more days remaining on the schedule in front of the All-Star break, the Golden State Warriors had a little fun with the Phoenix Suns. With stars like Draymond Green, Andre Iguodala & David West running the timeout huddles for much of the night, the Warriors pounded Phoenix 129-83. Steph Curry led the Warriors with 22 points on the night while head coach Steve Kerr let a few players sitting out the game coach the team during timeouts. Kerr told reporters it was his way of keeping his players sharp.
"I told them the other night after the last game (Saturday) that we were going to do it," Kerr said. "It's their team. I think that's one of the first things you have to consider as a coach. It's not your team, it's not [general manager] Bob Myers' team, it's not [owner] Joe Lacob's team -- although I'm not going to tell Joe that."
Golden State has won three in a row and has a 1-game lead over Houston in the Western Conference standings.
In other NBA action last night, the Utah Jazz keep right on rolling (UTA). The Jazz have won 10 straight, knocking off San Antonio 101-99. Meantime, the Clippers slip past Brooklyn 114-101 and New Orleans beats up on Detroit 118-103.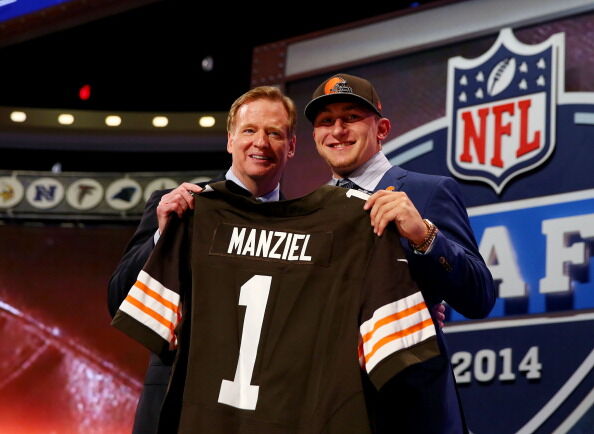 Manziel eyeing potential comeback
Wow. This photo does not appear to have aged well.
Remember when Johnny Manziel was all the rage? Remember when it seemed like the sky was the limit for one of the most dynamic, if not most colorful Heisman Trophy winners in recent memory?
In a tell-all interview with ABC's "Good Morning America" that aired Monday, Manziel -- who in every sense of the word has been an NFL bust -- said he has been diagnosed as bipolar and is taking medication for it.
And his goal is to get back on the football field.
"I am watching all the other guys doing what I want to be doing and I am sitting on a couch being a loser."
Manziel said he was diagnosed with bipolar disorder about a year ago, adding that he has stopped drinking, admitting he'd used alcohol as a way of "self-medicating" as he battled depression.
"At the end of the day I can't help that my wires are a little bit differently crossed than yours, I can't help my mental makeup of the way that I was created. But I know if I stay on these meds and I continue to do what I am doing right now ... I think my dad, my mom, I think [girlfriend Bre Tiesi], would all agree that they see a drastic change."
Manziel won the Heisman Trophy at Texas A&M in 2012, becoming the first freshman to claim the award. And he was a first-round pick by the Cleveland Browns in 2014. But after two unremarkable seasons, he was out of the league.
He acknowledges there's no one to blame except himself after the drinking binges documented on social media and a run-in with the law that included a domestic assault charge.
Manziel says he's been working out and trying to convince some NFL team to give him a second chance.
"I don't know what kind of comeback it will be," he said, "but I know I want to get back on a football field to what brought me so much joy in my life and it makes me happy doing as my job."
Manziel currently has a contract -- and an opportunity in the Canadian Football League -- waiting for him. And while the glory and the accolades Manziel became accustomed to in both his brief college days and even briefer NFL career might escape him in the CFL, it's not up to the NFL to afford him another opportunity until he's proven himself worthy.
The Hamilton Tiger-Cats offered Manziel a two-year contract recently, but the quarterback has yet to lock into playing in Canada. He was initially ruled ineligible to sign a contract with Hamilton, but CFL commissioner Randy Ambrosie recently approved his eligibility.
Now it's up to Manziel to work something out -- he says it's "still on the table."
The ball -- as it has always been -- is in his court. Manziel failed to live up to the expectations in his first go-round in the NFL. If he opts to sit back and wait for an opportunity there, it's almost certain it would be as a backup.
One who will have not taken a snap in the NFL since December of 2015.
-- ESPN contributed to this piece Once again, let's check in with the circus clown...
LaVar Ball is at it again, telling reporters in Lithuania this week that his eldest son Lonzo, currently a rookie on the Los Angeles Lakers, would not sign a new contract with the team nor play for the team unless his younger brother LaMelo and LiAngelo were also on the roster.
This tweet, from the account of Donatus Urbonas, a Lithuanian basketball writer, confirmed the account.
And of course, there's also video of the nonsensical statement.
Considering Lonzo Ball's contract with the Lakers contains team options through the 2020-21 season, it's unlikely that even if the two sides don't agree to an extension, he would only become a restricted free agent at that point, meaning the Lakers could match any deal he receives.
Further complicating matters in the real world is the fact that neither LiAngelo nor LaMelo appear anywhere near NBA ready.
According to ESPN's Adrian Wojnarowski, LiAngelo is eligible to be drafted this summer, but he doesn't appear likely to be one of the 60 picks. Wojnarowski explained in December that the guard has "no chance" of being taken and wasn't on any extended lists after leaving UCLA.
Although LaMelo was more highly touted as a recruit, he is only 16 years old and won't be eligible for the NBA for another two years.
According to Eurobasket, LiAngelo is averaging 13.8 points per game in five league appearances for Vytautas, while LaMelo is averaging 7.6 PPG in this stretch.
Considering Lonzo's struggles to begin his NBA career, shooting just 35.6 percent from the field in 36 games while dealing with numerous injuries, he might not have enough leverage to control the rest of the roster.
Again, the circus gets its share of time, and ours has once again been wasted on a lot of hot air and empty drivel.