 So now we're back to this...
NFL rules expert Mike Pereira once again called out a missed call on what many people believe was the one of the defining plays in Super Bowl 52, the so-called Philly Special.
That was the Eagles touchdown late in the first half where Nick Foles stepped out of the shotgun and caught a pass in the end zone preserving a two-score lead going into halftime.
At the top of the picture, you'll see Eagles receiver Alshon Jeffery a bit off the line of scrimmage. League rules call for seven players to be on the line of scrimmage for all plays.
There are clearly only six.
Pereira said that while it may be a judgment call for some officials, a penalty for illegal formation should have been called.
"We always use a yard (within the line of scrimmage), maybe a yard and a half. It's kind of one of those that has no effect on the play," Pereira said. "I get it. But they didn't line up properly and it really should have been called."
Personally I don't care about this at all. But two points I want to make sure we make clear.
Number one, the old axiom and I'll repeat for (not quite literally) the billionth time. If you're relying on officials to help you win ball games, there's a pretty good chance you've already lost.
But more important to me is this... I don't hear a lot of Patriots fans or correspondents chirping about this. I don't see memes being posted on social media, I'm not getting a sense of outrage from Patriots fans clamoring for this to be reviewed, recalled, discussed and debated for years and years.
But if the shoe had been on the other foot, and that had been Brady catching a pass after an illegal formation or if some other incident had occurred in the Super Bowl in which it could be perceived as benefiting New England, there would have been people would have been calling for a federal investigation into not only the play, but the officials on the field and everyone who had anything to do with the game.
Most certainly, it would have started a Twitter meltdown, complete with catchy hashtags as well as a conspiracy theory with the suffix "gate" attached.
Are we that desperate for headlines that we're still talking about this? The game was 10 days ago. It's time to move onward. Warriors catching heat over coaching maneuver
There's an annual holiday that's celebrated in England called "Boxing Day".
Boxing Day is celebrated on the day after Christmas. It is celebrated in a number of countries that previously formed part of the British Empire.
There are a number of competing theories as to the origins of Boxing Day, but by and large the idea of Boxing Day is that people in power trade places with those who serve those in power for one day.
And while the most recent examples of Boxing Day may not be as accurate with what was originally designed, the practice of the role reversal seems to have been met with some fanfare.
Earlier this week, in a game between the Golden State Warriors and Phoenix Suns, Warriors coach Steve Kerr turned over a number of courtside huddles to his players, notably Draymond Green, Andre Iguodala and David West.
The Warriors are currently in first place in the Western Conference and own the best record in the NBA. It's widely believed they'll be playing this summer in the NBA Finals for the fourth consecutive year. This may be professional sports most current dynasty organization.
The Suns, on the other hand, are abysmal. They're tied with two other teams for the worst record in the league, they've lost nine of their last 10 games and are simply appearing at times to be just playing out the schedule.
Surprising to no one, the game was a blowout. A 46-point win by the Warriors. It was also a statement by Kerr as a way to keep his team motivated heading into the All-Star break, which begins Friday.
"Tonight they needed a new voice," Kerr said after the win. "This is their team. It's up to them to communicate."
Some are suggesting this was a disrespectful move by the Warriors against the Phoenix Suns.
Pundits and reporters say that a move like this is a bad look for the league, and while it may have been used as a motivator for a Warriors team that's been a bit lethargic of late, it shouldn't have come at the expense of another team.
Allow me to challenge this notion.... If it's a motivator for the Warriors and a move designed to be at the expense of the Suns, what was to prevent them from using it as a motivational tool of their own?
If you see someone openly disrespecting you, if you come across someone mocking you and deliberately attempting to make you look inferior, aren't you at all responsible for your own reaction to that behavior?
This isn't about disrespect for the Phoenix Suns. This is about the Warriors being infinitely better than the Suns, and no matter who was running huddles courtside during timeouts for the Warriors during this game, the result would have been the same.
And a memo to the Suns... Don't let yourselves be victimized by someone else's behavior. Or if you do, make sure to point those shameful fingers at your own reflection, because this one's just as much on you as it is anyone else.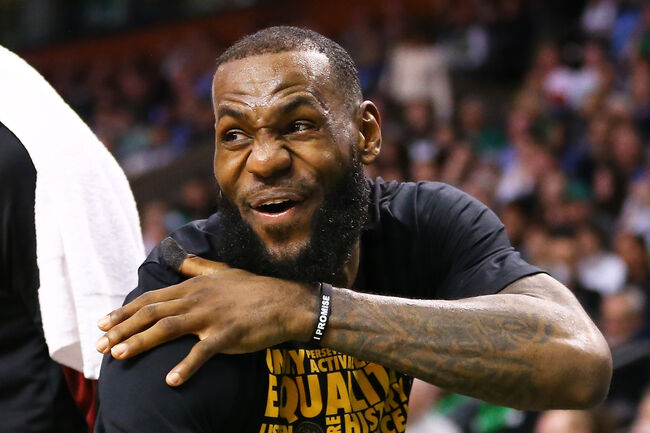 NBA action last night
The new look Cleveland Cavaliers impressed again.
Just a few weeks removed from an embarrassing showing at home, the Cavs turned the tables in Oklahoma City with a 120-112 victory over the Thunder.
LeBron James led all scorers with 37 points on the night as the Cavs also got double digit scoring from four players off the bench. The Cavs have won four straight.
Meantime, the Houston Rockets continue to maintain pressure atop the standings in the Western Conference with a 126-108 win over the Minnesota Timberwolves. The Rockets trail the idle Golden State Warriors by just a half-game out west.
Looking at the Cavaliers, it's important to remember a couple of things. Tuesday's win over Oklahoma City is just another one of eighty two, but it is a checkmark in their favor. It's also a reminder that what Cleveland was really missing was identity on defense. That's something they're attempting to work on. The Cavs may in fact have re-emerged as Eastern Conference favorites. The Colts (finally) have their man
Frank Reich was formally introduced yesterday as the new head coach of the Indianapolis Colts. Reich had served as offensive coordinator for the Super Bowl champion Philadelphia Eagles and will now replace Chuck Pagano, who was fired at the end of last season.
For Reich, this new job is also a bit of a homecoming. Reich started his NFL career playing for then Buffalo Bills General Manager Bill Polian. He got his first coaching opportunity under Polian in Indianapolis and with coach Tony Dungy who led the Colts to a Super Bowl victory.
Reich then coached under Doug Pederson who was with the Kansas City Chiefs at the same time as current Colts GM Chris Ballard.
The Colts were an abysmal 4-12 last season, including just 1-7 on the road.
No one's going ask Reich to make miracles happen in his first season on the job.
But I'll go back to my old theory on any new coaching or managerial change. One win more in the first season than the previous regime and the whole thing should be considered a massive success.
The magic number is 5.