There's a lot of reasons, I suppose, to watch the NBA All-Star Game.
The interaction, as uncomfortable as it may be, to see regular season teammates suddenly become one-time opponents, or to see even more uncomfortable reunions take place on the hardcourt.
But for all the bells and whistles that go into the events at the Staples Center this weekend, I can't get around the notion that basketball -- as a team sport -- fails to resonate with me when it becomes more about the individual exploits of one superstar over another.
That said, I'll probably miss out on the game.
I will definitely be more than interested when the regular season resumes next Thursday night. With some intriguing storylines like the current first-place teams like the Toronto Raptors back east and the Houston Rockets out west and how much "momentum" they've carried with them into what's affectionately referred to as the second half of the season. NASCAR kicks off season with a Drivers Ed lesson
I've been told by people in the know that this year's NASCAR season is going to have quite a few new looks to it.
New drivers, being showcased on a national stage, competing for air time and marketing dollars with the old veterans.
I'm reminded of this whenever I see kids trying to get their drivers licenses, working with driving teachers, behind the wheels of cars that say "Caution: Student Driver".
Before these so-called kids get behind the wheels of these cars, I'm going to go ahead and assume they've spent years of training, preparing and learning how to handle the kinds of conditions they'll encounter this weekend at Daytona.
Old, cagey, wiry veterans behind the wheels of custom machinery sharing the same small space as a bunch of reckless kids.
That's no different than a Friday afternoon on the 405 Northbound.
I can't imagine anything going wrong here. It's about to get all sorts of nasty in the NCAA
Reports are surfacing that suggest college basketball is ripe with corruption, greed, chicanery & multiple claims of illegal crap.
I'll let you sit back for a moment while you try and imagine the shock of that statement.
An article which came out yesterday from Yahoo Sports' Pete Thamel paints a damning picture on the sport, the people in charge of it and those who made the most money from exploiting it.
Now, we've seen stories like these before. Or at least we've heard about them, and once the whispers get a little too loud, someone comes along and distracts you from it and the story goes away.
According to the Yahoo Sports piece, the allegations which are about to come out after a months-long investigation may "fundamentally and indelibly alter the sport of college basketball."
Those are pretty bold statements to make. According to the article, it could very well be that coaches, administrators as well as players could very well be implicated in this scandal which also may spell a heightened reasoning to make sweeping changes to the entire fabric of the NCAA.
The college basketball world is about to get a deep share of the spotlight. Conference tournaments begins soon, then the official countdown towards March Madness and one of the most widely anticipated events on any sports calendar, the Men's Basketball Tournament and the Final Four.
If the allegations in the story do come out and the investigation proves that there's a ton of illegalities in college basketball, that spotlight is going to look a lot different.
Or, I'll let the author paint an even bleaker picture....
"In terms of NCAA rules, multiple sources told Yahoo Sports that the material obtained threatens the fundamental structure and integrity of the sport, as there's potentially as many 50 college basketball programs that could end up compromised in some way."
Have fun with that.
Reading the tea leaves of the current investigations into possible corruption of college basketball left me wondering what the sport looks like when it comes out the other side.
I suppose I'd feel better about the sport's future if I wasn't so disgusted that those who let it get so bad were just going to fade away.
Get ready kids, what you know as the NCAA is about to change dramatically.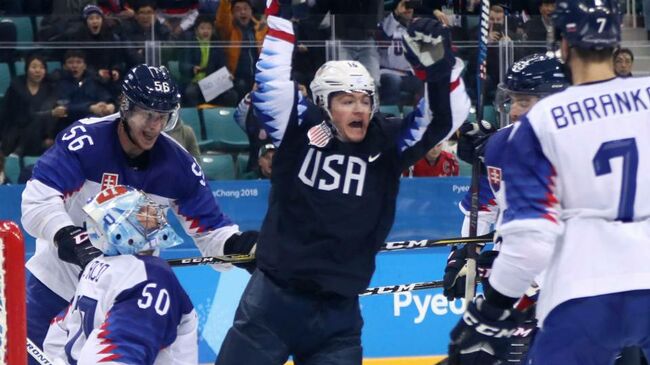 Good news! The world isn't about to end... yet
Not yet 48 hours removed from choking away their Olympic opener, the U.S. men's hockey team got back on track Thursday with a hard-fought 2-1 victory over Slovakia in preliminary group play — their first win in Pyeongchang.
Ryan Donato played hero with a pair of power-play goals, including the go-ahead marker scored 2:51 into the third period. The 21-year-old Harvard product, one of four NCAA players on the U.S. squad, showed he belongs on the Olympic stage, leading an American youth movement that has been the brightest spot of the team so far.
The U.S. men's team will face Russia in a final preliminary round game on Saturday night.
Voting on who wins the game is optional, but it will be monitored.
Sporting News.com