This One Goes Out To The Ones I've Loved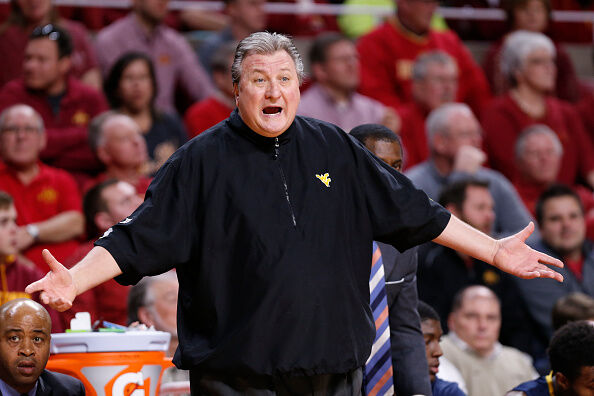 Tonight's Sweet 16 matchup between Villanova and West Virginia will feature two of college basketball's most influential and colorful characters in Jay Wright, representing Villanova, and Bob Huggins, who will be storming the courtside for West Virginia.
Huggins is a pretty stormy guy when it comes to his dealings with the media. Not in a bad way, but in a quirky, fun-loving, "you never know what he might say next" sort of way. Wright is a bit more polished, but he's also quite vocal and often lets his feelings be heard.
It's why this game, above the other Sweet 16 games showdowns tonight, for me is the most compelling.
Huggins earned even more brownie points with me earlier this week. In a press conference before tonight's game, Huggins was asked about the recruiting process in college basketball. With a great deal of emphasis on the investigations currently swirling around some of the top programs in the country, Huggins took this question to a whole other level.
Bob Huggins compared recruiting players to courting a girl. Huggins told reporters, "You spend all that time and all that money chasing her around and at the end of the day, she walks off with somebody else."
And with that, Huggins not only described college basketball but also clearly defined every aspect of my personal life. I have no reason to include this in my blog this morning. I just came across this photo and immediately thought, "Life choices. Make better ones."
That's all.
Tonight's Sweet 16 games and picks on those contests:
Please note, I went 0-4 yesterday on my selections, so take these selections with all the emphasis you dare. My picks are in bold.
East Region
Villanova (-5) vs West Virginia
Texas Tech (+2) vs Purdue
Midwest Region
Kansas (-5) vs. Clemson
Syracuse (+11 1/2) vs. Duke Wide open Sunland Derby headlines strong Sunday program
The $800,000, Grade 3 Sunland Derby is one of two major stepping stone races this weekend on the road to the May 5th Kentucky Derby.
The Sunland Derby will go as the 11th of a strong 12-race program at Sunland Park, with a number of big stakes races and purses well over $1.5 million.
Sunland Park's publicity director Eric Alwan will join me this morning on First Sports to preview the race, as well as the highlights of the Sunday card.
And there will be even more coverage this weekend for the Grade 3 Sunland Derby, both on the radio dial and right here on the web.
Join me, along with our Fast Track crew this weekend for best bets on races from some of the top tracks across America.
The Fast Track, presented by SunRay Park and Casino, airs weekends at 10am ET. In addition to Sunday's Sunland Derby, we'll also be focusing in on Saturday's Louisiana Derby from the Fair Grounds, another giant milestone race on the road to the Kentucky Derby.