Pitchers, much like kickers in the NFL, are sometimes pretty hilarious to watch when taken out of their natural, or preferred element.
Let's examine for a moment the 6th inning, bases loaded walk to Dodgers starting pitcher Yu Darvish.
Darvish, like far too many pitchers in the game, are -- to be blunt -- terrible at the plate.
That's not an unfair statement or an accusatory declaration. It's a fact.
So when Dodgers manager Dave Roberts opted -- with a 4-1 lead and bases loaded in the top of the sixth inning and an opportunity to blow the Cubs right out of the water -- to send Darvish to the plate with two outs, I admit quite freely that I thought this was a terrible mistake.
This is why I'll never manage a big league ball club.
The decision to let Darvish go into the batters box was as much a move of confidence from Roberts as it was an indictment of the lackluster efforts this series by the Cubs bullpen.
Clearly, it's not the same group of pitchers that led the Cubs to winning the World Series last year, and the bases-loaded walk off reliever Carl Edwards, Jr., which scored Yasiel Puig and extended the Dodgers lead to 5-1 and allowed Darvish to come out for the seventh inning, was the icing on the cake in last night's Game 3 victory.
Do the Dodgers finish off the Cubs tonight, completing the 4-game sweep and stamping their ticket for the 2017 World Series?
We'll find out soon enough.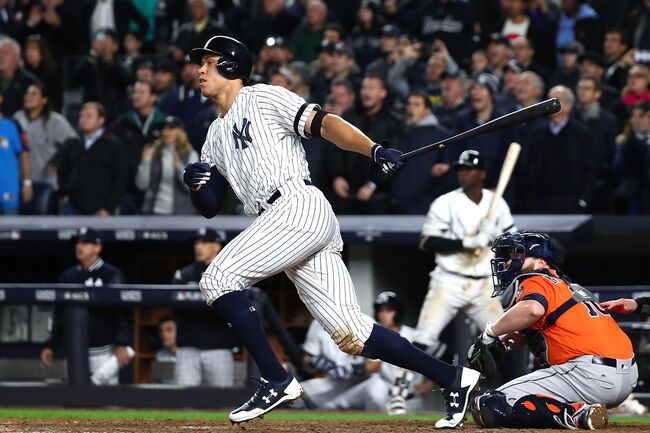 The New York Yankees have evened things up with the Houston Astros in the American League Championship Series at 2 games apiece. Last night, the Yankees rallied from a 4-0 deficit, scoring six times in the seventh and eighth innings to beat the Astros 6-4 in Game 4 in New York. Game 5 is today in the Bronx, with the winner heading back to Houston with a significant advantage.
I'm sure I'm not the only one who gets a little more intrigued, if not excited, when an announcer tells a captive audience that an upcoming video clip might make some people squeamish.
"Kids, you might want to leave the room before we show you this video..." might as well sound like, "Hey, watch this, because this is some gnarly footage that you'll be showing all your friends."
That said, in case you missed the clip of newly acquired Boston Celtics star Gordon Hayward turning his left ankle in a direction not humanly acceptable, allow us to show you right here.
The immediate impact of the injury for the Celtics aside, it does likely change the entire outlook of the Eastern Conference. Hayward, in addition to the also newest Celtic Kyrie Irving, were expected to compete with the Cleveland Cavaliers for that Eastern Conference title. Those hopes might be more than just a little derailed at the moment.
Hayward, who signed a free-agent deal this past summer for more than $120 million, was expected by many to be a 20-point a night guy, which will be hard to replace despite having some productive, young talent on that Celtics roster. You can expect more of the "moral outrage" to be directed at the National Football League and commissioner Roger Goodell this week after meetings with the league and the players association appeared to do little to discourage the so-called "anthem protests" and those who participate in those moments.
Goodell spoke to media yesterday after those meetings yielded little to no change whatsoever to the league rule which goes so far as to suggest players stand for the anthem, but makes no mandate of any kind nor places any sort of guidance towards punishment for those actions.
Goodell called the discussion with the players "very productive" and "important", saying it "reflected our commitment to work together on issues of social justice."
He commended the players for their "great character" and a "deep understanding" of the issues in their communities. He said their commitment is "admirable" and the owners want to help them.
Philadelphia Eagles star Malcolm Jenkins echoed those sentiments in his comments after the meeting, telling reporters that there was "very little" talk about the actual anthem or the rule regarding the actions of players during it.
"As players, we want to use our platform to collectively and collaboratively work with owners to actually create some change," Jenkins said.
Bottom line? These are people. They are not characters on your fantasy roster. They have individual personalities that may or may not gel with yours.
I suggest you get used to it.
Got a good show coming up this morning on FIRST SPORTS. We'll talk all things MLB playoffs with Paul West, we'll break down opening night action in the NBA with Jamieson Welsh and we'll get you caught up on Tiger Woods news plus much more in the world of golf with Ryan Ballengee.
Plus, it's Fox Flush day in which we'll toss two more NFL teams down the drain in their hopes of a Super Bowl bid. I know one team's rather rabid fan base will be particularly unhappy with me this morning.
Tune in to FIRST SPORTS, weekdays 9am ET on FOX AM1340/93.9FM, or listen live on the I Heart Radio app through our website.
You're welcome, America!