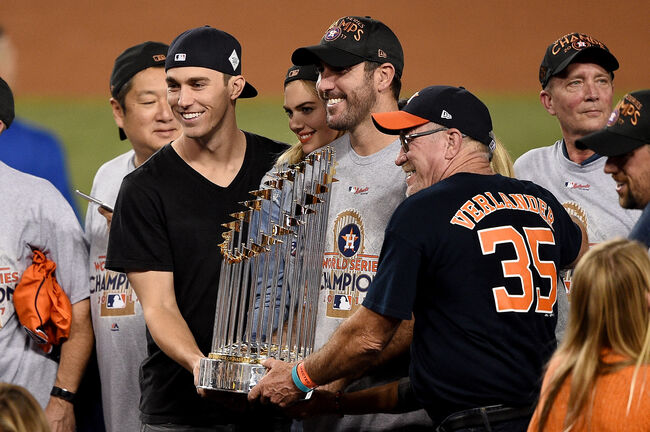 First things first.... Congratulations to the Houston Astros. A well-deserved championship team.
As a fan of the Dodgers, I have to tip my hat to a most worthy competitor and acknowledge that when it mattered most, they were the better team.
What went wrong for the Dodgers? Admittedly, quite a few things, but Yu Darvish will be the easiest punching bag.
2 World Series appearances. 10 outs recorded. 12 hits allowed. 9 runs scored upon. 2 home runs surrendered.
Was he the only reason the Dodgers came up short in this series? No. The Houston Astros entire organization did more than their fair share of damage. Someone had to get those hits and score those runs.
Darvish will make for a convenient target, but that would only serve as fodder for those who want someone to blame, instead of pointing the spotlight on the actual accomplishment.
There were some questionable decisions made by manager Dave Roberts, particularly last night's call to the bullpen and using Brandon Morrow to close out the second inning, facing only one batter.
But let's be honest, the wind had been taken from the sails long before that when the score was already 5-0. Leaving 10 men on base and going a whopping 1-for-13 at the plate with runners in scoring position is not a recipe for success, especially when everything on the field is examined like a petri dish under the proverbial microscope. And so the Dodger baseball hats go back on the rack inside my home, where they'll remain till sometime next spring, when the sun shines in Arizona and we stir about with hopes refreshed and looking around.... not at what could have been, but at what may still be.
19 World Series appearances. 6 titles. 13 disappointments.
Better luck next year, Bums! Making Pizza Great Again?
There's an intriguing story making the rounds today suggesting that Papa John's CEO John Schantter is curtailing some advertising dollars with the NFL because of the anthem protests and supposedly sagging television ratings.
I won't pretend to know the exact economic models which Schnatter is pointing to in order to come to the conclusion that revenue may be down across the company, and I won't argue with Schnatter's logic if he feels the television numbers are dropping.
Because he's right. The TV numbers are dropping, because technology hasn't yet caught up to the multiple ways people are taking in the product. That's a fact, and if you don't believe it, check out the amount of dollars being spent by businesses like Hulu and Amazon, which provide online content that mirrors much of what many of us receive from cable and satellite subscribers.
I don't hear any CEO from those corporations complaining.
But here's another angle for you. Isn't the mere mention of the protests a method of advertising? Isn't the very idea that they'd use the negativity of the anthem protests as a means to increase business a form of the same type of manipulation many so-called fans are using against NFL players who protest during business hours?
Papa John's makes pizza. Their employees toss dough, sprinkle cheese and other ingredients onto bread and slide that into an oven.
Are the employees there being adversely affected by the decisions of supposedly millions of people who are -- as we speak -- rapidfire turning off NFL games?
And if so, are those same employees now turning away from their jobs and looking for work elsewhere? Are they failing at their jobs, shirking on their responsibilities? No. They're simply being pigeon-holed into a corner because their corporate leader is attempting to marginalize and restructure the entire business model of the chain.
It's his right to do so, but this isn't the first time Schnatter has tied his pizza chain to a bully pulpit.
In 2012, Schnatter warned that President Barack Obama's health care changes would raise pizza prices and could cost workers their jobs.
The public backlash from those comments caused shares in the company to rapidly drop over 4 percent from the year prior.
I'm glad the fight is still going on. I'm glad there's a conversation happening. I want there to be different points of view and I remain hopeful that we'll still be able to acknowledge a marketing gimmick for precisely what it is.
All of this and more is coming up today on FIRST SPORTS, weekdays 9am-Noon ET on the I Heart Radio app through this website and on the radio dial at AM1340/93.9FM.
This morning, we're previewing this weekend's Breeders' Cup with Horse Racing Nation writer/racing analyst Jarrod Horak as well as this weekend's star-studded UFC217 card with Pro MMA Radio host Larry Pepe. We'll recap the World Series and talk up USC Football with Chuck Hayes from Southern Cal and we'll drop the puck on some hockey talk with SB Nation NHL editor Travis Hughes.
Looking forward to a good show. Hope you'll be a part of it.