 Wildcard Round action is complete in the NFL Playoffs, and yesterday, both the New Orleans Saints and Jacksonville Jaguars stamped their tickets to the next round. Jacksonville knocked off Buffalo yesterday by a final of 10-3 in a game which saw both the Jaguars and Bills offenses struggle to do much of anything. Blake Bortles completed only 12 passes for 87 yards, but tossed a touchdown and also ran for 88 yards to lead Jacksonville to the AFC Divisional round where they will face Pittsburgh on Sunday morning. Over in the NFC, the New Orleans Saints won a shootout last night at home 31-26 over the Carolina Panthers. Drew Brees fired two touchdown passes for the Saints and threw for more than 370 yards, outdueling Carolina quarterback Cam Newton, who threw a pair of scores and for nearly 350 yards but was sacked four times. The Saints will face Minnesota Sunday afternoon.
In other divisional action this weekend, it will be New England hosting Tennessee while Philadelphia will welcome Atlanta. Some early thoughts on Saturday Divisional Games
(NFC Divisional -- Atlanta at Philadelphia - LINE: Falcons -3)
Normally, I'd jump all over the home team in the divisional games, but the opening line on this game is a huge sign that no one has faith in the number 1 seed in the NFC. If you go by the assumption that standard, minimum homefield advantage on a betting line is 2.5 or 3 points, then this opening number is anywhere between a 5.5 to 6 point swing the other direction.
The Falcons have postseason experience, are coming off a road win against a team with a similarly inexperienced, unproven postseason quarterback and perhaps most important, are still trying to exorcise the demons of a blown Super Bowl less than a year ago.
The Falcons offense is still a work in progress. They don't do a lot of anything particularly well, especially considering the gaudy numbers from a year ago (2016, 2nd ranked offense in the NFL, 2017, 8th ranked with 800+ fewer total yards this season). For the Eagles to advance, they'll be looking to do it through their defense, which will be responsible for slowing down a running game that stays fresh with both Devonta Freeman and Tevin Coleman.
Key stat to consider: Matt Ryan tossed 18 fewer TD passes this season than last year. That's a lot of points left on the cutting room floor.
(AFC Divisional -- Tennessee at New England - LINE: Patriots -13.5)
The Patriots, who obviously needed a gift from the football gods while the organization tries to douse the flames of whatever grease fire erupted last week in Foxboro, got a nice post-holiday season treat from the Kansas City Chiefs, who inexplicably found a way to let the Titans slip through their fingers.
I'd love to sit here and point out a scenario where the Titans defense comes into the unfriendly confines of Boston, stifles Tom Brady and Rob Gronkowski, and another scenario where Mike Mularkey outcoaches Bill Belichick and yet another scenario where the Patriots have simply forgotten what it's like to be the team with the proverbial bullseye on their posteriors.
None of those things are about to happen this Saturday, and unless the skies are truly falling, the Patriots are going to move on to the Conference finals.
Key stat to consider: The Patriots rank 20th in the NFL against the run. Derrick Henry ran for 156 yards in the Titans victory over Kansas City. In the last two regular season games in which the Patriots defense surrendered more than 100 yards to one running back, they lost to the Dolphins and held on for a victory at Pittsburgh. Ball Family drama seeps into NBA's coaching fraternity
Because nobody expected this to happen.
#Sarcasm
LaVar Ball, who seemingly has taken (another) page from the playbook of divisiveness and shock value commentary from his (allegedly) international shoplifting patriarchal tycoon POTUS , took it up a notch this weekend when in Lithuania with his two youngest offspring.
Only this time, the candidate for father of the year turned his attention to Lakers coach Luke Walton, suggesting that Lakers players (including his oldest son Lonzo) don't want to play for the man and is destroying the confidence in the locker room.
"You can see they're not playing for Luke no more," Ball said from a spa resort in Birstonas, where he is staying while his two youngest sons, LiAngelo and LaMelo, get ready to make their professional debuts with Lithuanian team Prienu Vytautas. "Luke doesn't have control of the team no more. They don't want to play for him." (Comments come at the 10-minute mark of the video)
The comments drew the ire and frustration, not only from Walton, who has more than established his credibility as a coach when he guided the Golden State Warriors to a league-high 24 game win to start the 2015-16 season.
The comments also drew a heated commentary from Dallas Mavericks coach Rick Carlisle, who not only attacked Ball personally, but also called out ESPN for publishing the comments in a press conference this weekend. (Partial transcript below)
"Printing an article where the father of an NBA player has an opinion, that's printed as anything like legitimate, erodes trust. It erodes the trust that we've built with ESPN, and our coaches are upset because Luke Walton does not deserve that. Two years ago, he took a veteran team and led them to 24 wins in a row, which is an amazing accomplishment. And off of that, he earned the Laker job. To have to deal with these kinds of ignorant distractions is deplorable.
"I'm saying that they (ESPN) should look at their sources and do a better job of determining whether they have any merit or any validity, or are they just blowhard loudmouths. That's what I'm saying."
Personally, I'm not a fan of anyone suggesting that access to coaches, entertainers, newsmakers, etc., should come with a preconception that such access is confined only to when the coverage is satisfactory to them. That's the very definition of what a PR department is for. Journalism is not public relations (at the very least, it shouldn't be).
But Carlisle has a point. Ball has clearly been able to make comments, divisive or otherwise, without much pushback at all from those covering the NBA or NCAA on a national level. Ball has made it clear he disapproves of coaches (at every level) who don't actively pursue the individual achievements of his sons.
We saw these distractions last season at UCLA with Lonzo. We saw these distractions at Chino Hills High School with his younger sons.
And surprise, surprise, we're seeing them now in the NBA with one of the most marketable, highly visible teams in the sport.
Ball knows precisely what he's doing. He can no longer just smile and passive-aggressively placate the notion that he's just being funny or charming or trying to light a fire.
He's openly trying to create a division with a very large business. And he's doing so almost completely unchecked and unhinged.
Journalists have a right to question this man's behavior or his motivations. Unfortunatley, there's a pervasive laziness to covering this man. He provides good content and it's almost always Twitter-friendly, so let's just keep leaning on him so we can make that monthly unique visitor quota.
This will not be the last on this story. That's for sure.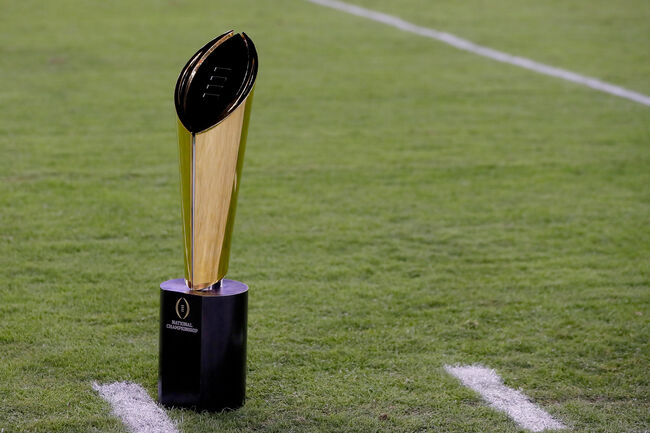 National Championship Prediction
Alabama 28, Georgia 23
Don't thank me till it comes true.