The Madness Is Only Beginning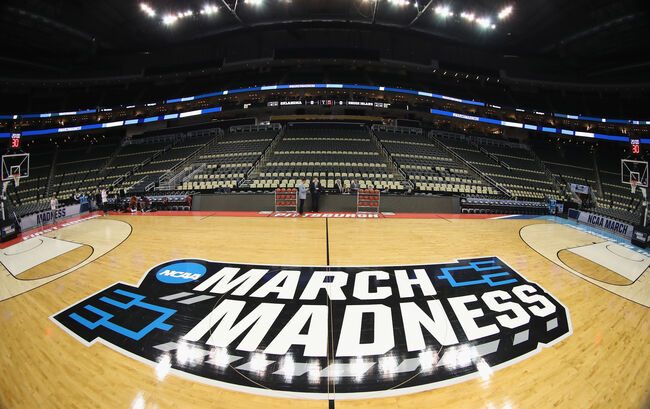 So I guess I didn't do nearly as bad as I imagine a lot of people did yesterday on my brackets.
But it still wasn't pretty.
For the opening day of the 2018 Men's College Basketball Tournament, my bracket only has four blemishes. I lost Arizona (as I imagine many of us did). I also lost Miami, Virginia Tech and Oklahoma.
But I can only try and envision what kind of week it's been for both the Arizona Wildcats and the entire Pac-12 Conference.
This has been a disastrous week for all involved.
Arizona head coach Sean Miller's job is reportedly on the line after an embarrassing 21-point loss to Buffalo in the first round last night. Not to be outdone by the futility of a prime-time loss on national television, UCLA and Arizona State failed to get past the play-in round earlier this week.
That, if it weren't already bad enough, was the exclusion of USC from the big dance just one day after playing for the conference title last week.
All things considered, USC might have been the fortunate ones.
Day two of the opening round of the tournament continues this morning. We'll see how much more damage gets done to our brackets tonight before heading into the weekend. Tiger in position to make a strong bid at Bay Hill
Once again, it would be important to let you know that Henrik Stenson is actually the first-round leader of the 2018 Arnold Palmer Invitational at 8-under par.
But we all know that we're not really interested in Stenson. For that matter, we don't particularly care much for Aaron Wise or Talor Gooch, who are both one shot back of Stenson in second place.
And I can't imagine too many more are going to be following the hole-by-hole exploits today of Jimmy Walker, Bryson DeChambeaux or Ricky Fowler, all tied at 5-under par through the opening round, though I'd argue you probably should be following all three of them.
Instead, it'll be Tiger's gallery crowd which figures to be the most viewed of all today as Woods -- at 4-under par and in prime position to make the weekend again -- will prove to be a must-see attraction.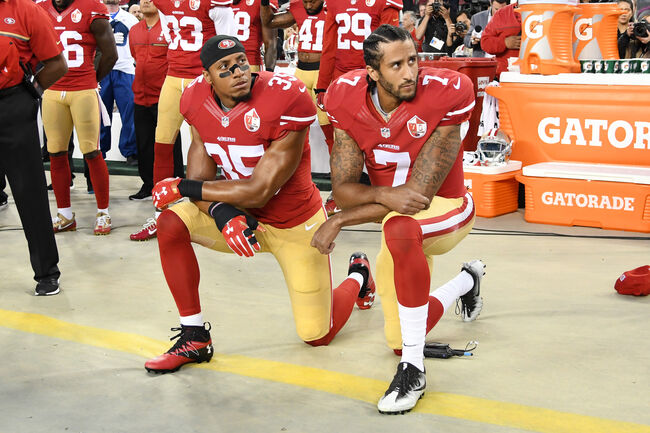 Protesters are going to pay a price... again
We all know the gentleman on the right.
Colin Kaepernick, still looking for a spot in the NFL. Still looking for a quarterback gig, and still seemingly unaware of the fact that his actions probably cost him a future opportunity.
Whether that's right or wrong, in the case of Kaepernick, is entirely a judgment you're allowed to make. I've made mine, and I'm quite sure you've made yours.
The man on the left in this photo is Eric Reid, also formerly of the San Francisco 49ers, also now an unrestricted free agent, but unlike Kaepernick, it seems Reid is beginning to understand the consequences and repercussions of his actions during last year's so-called anthem protests.
Reid took to Twitter this week to call out unnamed NFL owners and front office types, speculating that one of the reasons he's not been approached with a free-agent contract during this offseason is because of backlash from his participation in the protests.
Reid wrote the following tweet on Thursday, "The notion that I can be a great signing for your team for cheap, not because of my skill set but because I've protested systemic oppression, is ludicrous. If you think is, then your mindset is part of the problem too."
I respect Reid for his willingness to participate in the so-called anthem protests. I, unlike many others, am not worried about the delicate balance of something stupid like football being dramatically altered or ruined by a group of individuals just reminding others not to be so shamefully ignorant of the events occurring in the outside world.
But I also understand the perspective of team owners. They are businessmen, and business can be a cruel, cruel world.
Maybe Reid and his partners in protest should have learned about these practices in the corporate world. Your right to freedom of expression isn't without some form of reprisal. This is how the real world works.
I'd love to have an owner go on the record and actually tell people (reporters, business agents) that Reid is being singled out because of his participation in the "protests". It would demonstrate a level of transparency and business acumen that I would personally find refreshing.
We read comments last week from Miami Dolphins owner Stephen Ross, who at first was behind the protesters, citing a need for expression and individuality before he changed his tune pretty remarkably once POTUS got involved.
"Initially, I totally supported the players in what they were doing. It's America and people should be able to really speak about their choices. When that message changed, and everybody was interpreting it as that was the reason, then I was against kneeling.

"I like (POTUS). I don't support everything that he says. Overall, I think he was trying to make a point, and his message became what kneeling was all about. From that standpoint, that is the way the public is interpreting it. So I think that's really incumbent upon us to adopt that. That's how, I think, the country now is interpreting the kneeling issue."
But the vast majority of NFL team owners have remained silent in terms of public commentary on the topic.
They're simply choosing to express themselves by not bringing these players onto their football teams.
Let it be said that I applaud the owners for being a bigger part of their business. If the decision is theirs to be made, I'm certainly not in a position to tell them what to do with what they own.
But if a free agent position player is available, and that player fills a need, and an owner decides to let his personal beliefs be swayed by a nationalistic idolatry that has no bearing whatsoever on the success of his business, then that's purely on the shoulders of that business owner.
And everyone should be aware of that.
Too much of the narrative will be spun to paint Reid as a man who got what he deserved, much like many of his fellow free agents looking for work this week.
Fans will be caught in the crossfire between wanting the best for the team he or she chooses to support and their role in the ongoing debate between what's acceptable and unacceptable behavior during a time of day when the actual success of the business is not at all on the line.
In other words, the protests aren't over. They've just been moved to another location to further sanitize the industry and protect the same billionaires who many of us believe to be out of touch and vastly unaware of the struggles and day-to-day lifestyle choices of the people who support them.
Yay for football.